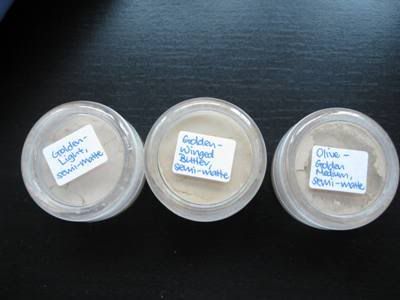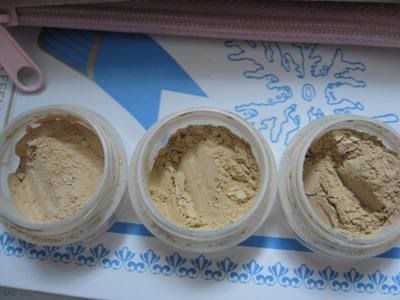 Recently I got some Everyday Minerals foundation samples - Golden Light, Golden Winged Butter and Olive Golden Medium, all in semi-matte. I've never tried minerals before so I wanted to see what all the hype was (and I didn't want to fork out $42.90 on a 5g tub of the Body Shop's Nature's Minerals).
Anyway I quite like them, they don't really sit on your skin but tint it instead. I think semi-matte's supposed to be the best formulation, but it makes me a frickin oil slick in no time, I know a lot of people who experienced that as well. Plus the coverage is super sheer, like what you get from a tinted moisturiser. (But I like it!) It definitely emphasises dryness but I'm still young so I don't care. As for the shades, I'm MAC NC25 and golden light is a little light, winged butter is a bit too yellow while golden medium is not yellow enough. So I'm trying to mix them up. I like the mixing part, it's kind of fun. XD
---
I'm so sad that the holidays are ending soon! School starts next week! Omg! On Saturday I went to a friend's 21st. On Sunday I had a family dinner at International Seafood, it was like $40 a head but the food was so good, we had black pepper crabs, drunken prawns, beef (kind of stupid to order beef in a seafood place but hey), dou miao and fishmaw scallop soup. It made my tummy so blissful. :D You know, that dinner was supposed to be our post-exams celebration, except it kept being postponed. :P And that very night was the night our results were supposed to be out. Smart huh. If they'd postponed the dinner any longer, I wouldn't have had any dinner at all after the release of the results, if you get my drift. Haha!
And yesterday I went out for dinner at Suntec with some friends and shoot, it has changed quite a bit, so there's a higher tendency for me to get lost in that place. :(
I don't want the holidays to end. (And what's a holiday without a class outing?!)