Souvenirs from my sister!
Clinique Dramatically Different Moisturizing Gel, duty free. I believe it's almost $10 cheaper than purchasing from regular counters! Still more expensive than getting it from the US though (the US salesgirls are generous with freebies too).
I went to Vivocity after doing my risk project. (I got badly lost, long story.) So TW and I went to Fre(n)sh for dinner! I love the food there! It's a very tiny place and can barely seat 16, but the service is great and it's quite a cozy place.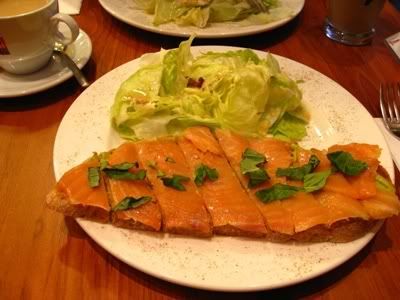 Salmon and avocado tartine.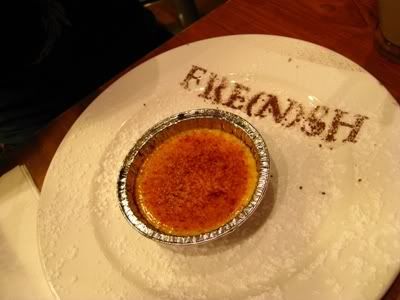 Crème brûlée.
I love the salmon tartine, the basil leaves make it taste extra great. And the crème brûlée's apparently their signature dessert, I love the cocoa dusted stencils, they're so pretty. The sugar top wasn't crispy enough for me, and the crème wasn't extremely smooth, but the home-made taste of vanilla leaves me super blissful. ((: It was only $19++ (inclusive of 10% service charge) for a set dinner of a drink, a tartine and dessert. The latte was good. I'm totally going back there. Craving their tartines like crazy!
I have decided - as long as I roar along my path in life with passion and energy, nothing else matters. I will make grumpy people smile, I will make angry people smile, I will not let you get me down. 加油!