I am extremely happy today cos I managed to plan my timetable with my ideal timeslots! Yayness!!! So here's a review today! (I have loads of stuff on my review list, just that I don't have the time to blog!)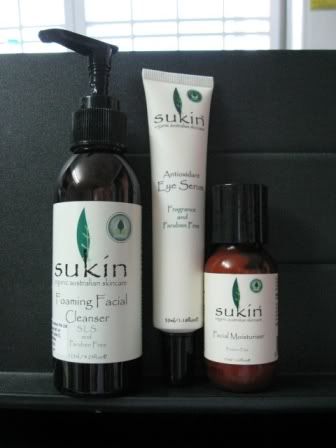 Sukin organic skincare
is from Australia and it's really affordable! I've been using the facial cleanser for a month, the rest for like 2 weeks and they're totally great! All their stuff comes in amber bottles and have a use-by date of 6 months which seems quite annoying at first, but you'll definitely use it all up by then! All the products do not contain SLS or fragrances (though they're scented with essential oils).
Sukin Foaming Facial Cleanser
This comes in a 125 ml bottle. (There's a promotion at Watson's now, 2 for $18 which is so cheap!) It's a clear gel which smells really good (like a mix of tangerine and mandarin essential oil) and contains good stuff like aloe vera, chamomile, rosehip oil, vitamin C and evening primrose oil, among other things.
It doesn't use SLS (which I find harsh and drying) and uses coco-betaine instead, which is vegetable-based. People not used to it will find it foams differently, but it still foams into a gentle lather and I love it! (My skin clinic's facial wash is also coco-betaine based, so I'm used to it.) I find this cleanser an inexpensive alternative to my skin doctor's cleaner, which costs about $43 for 250ml. It's great for cleansing oily skin without leaving it dry or tight. It's probably good for all skin types, since it's so gentle. I'd buy this again and again!
Rating: 10/10
Sukin Antioxidant Eye Serum
This comes in a 35 ml tube which is crazily huge. Like all Sukin products, it has a use-by period of 6 months, so who can apply 35 ml of product to their eye area in that short period of time? Ridiculous. I got this in a bundle with the facial moisturizer for $29.90, so the price is great.
This has no scent and is a white, sticky gel-cream which doesn't seem to absorb into the skin that well, cos it'll leave white residue around the eyes if you apply too much. And I have a tendency to apply loads of it cos there's just so much of it! So usually I use it at night. It's also a wee bit too sticky for day use. It definitely moisturises the eye area and reduces fine lines, but doesn't do much for dark circles.
Rating: 8/10
Sukin Facial Moisturiser
This comes in a 125 ml bottle, but mine's the travel version. It's a light creamy lotion that smells just like the facial cleanser. It contains ingredients like aloe vera, glycerin, sesame oil, avocado oil, jojoba oil, cocoa butter, rosehip oil, shea butter, wheatgerm oil and other essential oils which I think are to add fragrance. All those oils (especially sesame oil) made me really wary but they're actually non-comedogenic so it's fine.
It suits oily skin cos it moisturises well without leaving a greasy sheen. It felt a bit heavy at first (cos I was used to using Simple's Oil Balancing Moisturiser which was really light), but it's actually very manageable - I can slather loads onto my face without feeling suffocated. And while it doesn't control oil, it doesn't make my skin more oily either, so I love it!
Rating: 10/10
Conclusion:
Sukin is a great brand and I'll definitely repurchase the cleanser and moisturiser. I'm so looking forward to trying more of their products!
-------
Ok, I'll be off to practise my violin now - going off to play the piano in the evening. The adrenaline of planning my timetable is gone and I'm kind of sad cos I didn't manage to go runnng this week. Long tiring weekend, here I come...