I went to school to hand in my report today but the prof was out so I just left it outside the door. I'm praying he finds it safely!!!
Then I went to the new shopping mall, Ion Orchard! (Built by the construction company I was doing a project on the other time. Pah.)
We had lunch at Ginza Bairin! Katsudon and Katsu curry rice! The miso soup had extra stuff inside which was quite yummy. The pork cutlets are really good and thick! But I still think that those at Tonkichi are better and crispier. :D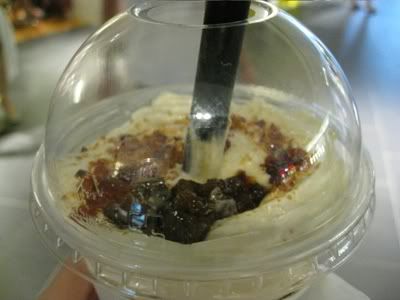 I washed it down with a Rum and Raisin milkshake from Patiscream. $7.90, kind of pricy. Not worth the calories either, imo.
Then we bought macarons from Bakerzin! They're having a promotion now and one macaron is slightly less than a dollar each. I got lemon, coffee and hazelnut. The coffee's the best with a firmer shell and strong coffee taste. The lemon shells were way too crumbly.
Recently I got around to eating the instant beef noodles I brought back from Taiwan. They are absolutely fantabulous!!! I'm drooling just thinking about them!!! SO SO GOOD. So cheap too! About SGD$2.50 per pack of 5? I want a whole carton sent back to me! -drools-
Life is catching up with me. My room is excessively messy and school starts in about 10 days? Clean-up time!