Today's only Monday, but I have only 3 more days left at work... because I'm taking leave tomorrow as well! Went to the doctor today... apparently I have to go to a specialist for my gastric problems, but I'll only get an appointment 3 months later. Still, 2 days' leave! Woots!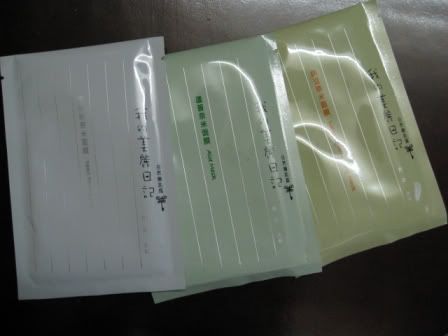 Here's a review of the 我的美麗日記 Beauty Diary sheet masks TW gave me a while ago! I'm looking forward to buying boxes of them back! From left: Pearl mask, aloe mask, natto mask.
These masks are really great, and the fabric is thin and soft which makes it adhere well to the skin.
Pearl Mask
(whitening)
This has a very strong powdery kind of fragrance, but it smells quite pleasant to me. Really gives a whitening/brightening effect which is noticeable after I remove the mask. Not as moisturizing as the Aloe mask though.
Rating: 9/10 (- cos of the strong scent and not enough moisture)
Aloe Mask
(hydrating)
This one has a faint pleasant scent and is very very moisturizing and soothing! It contains hyaluronic acid as well and really helps soothe the skin after exfoliation. Seriously good for dry skin. I love this! It's even better than Neutrogena's Deep Hydrating Mask! No whitening effects but it doesn't claim to whiten, so that's ok.
Rating: 10/10
Natto Mask
(firming, anti-aging)
This one doesn't smell like Natto at all (thank God!) and actually smells quite nice, in a florally sort of way. It's more moisturising than Pearl, but less than Aloe. I quite like this! It firms the skin a bit as well. No whitening effects.
Rating: 9.5/10
--------
Ok I'm so tired I'm going to bed. I've managed to order my Payeasy stuff over the weekend, but forgot about my friend's and then when I was in so much pain suddenly she smsed me to ask me to help her order and I really don't feel like it right now, especially since it takes me so long with my Internet connection.
I'm supposed to go celebrate my friend's 21st tomorrow... I hope I'll be able to make it. Won't be eating anything even if I go though. :(
Tomorrow will be a better day! Nights!