I really need to start catching up on my reviews. And like, blogging on my Taiwan trip. But this is a really great product that I've introduced to loads of people and one that Tracy totally finished using in Taiwan so it's really good for dry skin! (And regular skin or oily skin as well - I have the most freaking oily skin ever and it's great on me!)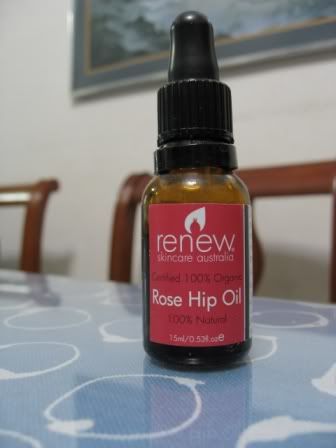 Renew Rosehip Oil
It's a small 15ml bottle with a 6-month useby date. 15ml seems really little but it can last a long time if used every night - 2 months or more! I use about 9 drops on the face each time. Rosehip oil is totally non-comedogenic even though it may feel oily. It looks oily too, which is why I use it only at night. And the smell - it smells like cod liver oil because it contains omega fatty acids, just like fish! [Update: I have also reviewed the
Renew Antioxidant Moisturizing Cream
so take a look!]
Usually I use it on its own, but drier skinned people can use it as a serum with moisturizer over it. It leaves my skin really hydrated, reduces flakes, and in the morning I wake up with brighter, plumper skin! I think the brighter, plumper skin is due to the omega fatty acids which are great antioxidants! After using it, you'll love feeling your smooth skin in the morning... and like what the Taiwanese say, you can feel the QQ feeling of your skin!
--------
Anyway, it has been a great weekend back at work! On Sunday, I went out to watch the latest Harry Potter movie with my sisters and we had the most healthy cinema chow ever - cut fruits and ham sandwiches! Then we had dinner at Manpuku and I bought a new dress from the kids section of Uniqlo! (The regular stuff doesn't entice me much, too bad!)
Yesterday I went to karaoke with my Jap class friends and we sang Jap songs which made us crazy high! Then today I went to cut my hair with TW (great chocolate-mint shampoo) and we had a late lunch at
Aerin's
, which is a great place at Raffles City that my friend Wanzi introduced to me. It's next to the fountain and it's almost always crowded but not on a weekday at 4pm, like today. :P The pasta was great and the lemon meringue was amazing too! I'm looking forward to trying the 3-tier tea set next!
I have a free day tomorrow - tidy up and washing up day! My room is almost, almost mugging-conducive now. Yea right. :P