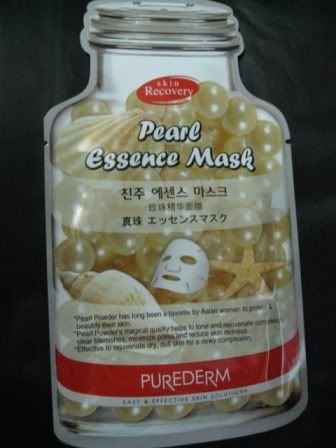 Purederm Skin Recovery Pearl Essence Mask
This is a sheet mask that caught my eye in the drugstore (my place for cheap things to cheer me up) because it had lots of korean words on it and the shape of the packaging was cute, like a bottle!
Basically the mask claims that
-Pearl Powder has long been a favourite by Asian women to protect and beautify their skin
-Pearl Powder's magical quality helps to tone and rejuvenate the complexion, clear blemishes, minimise pores and reduce skin redness.
-Pearl Powder is effective in rejuvenating dry, dull skin for a dewy complexion
It contains pearl powder, licorice root, vitamin E and collagen.
The mask has an herbal scent to it which I kind of like but others might be repelled. :P The fabric of the mask is very thin and soft which I like, because it adheres to the skin better. It's soaked in a very light liquid, so it wasn't as moisturising as I'd have liked. It did tighten my pores a bit, but I didn't notice any other effects other than smoothness which is what every sheet mask does. So this is just a very basic mask, pretty cheap at $1.95 a piece.
Rating: 5/10
--------
Been really busy recently. This post was post-dated cos I have no time to blog. ;_; Going out to work later. 2310958708917 pages of reading to do. 2 lectures I haven't watched and will probably never watch. 5 days of school next week, 4 parties to go to.
Hurray! My (work)life is back.