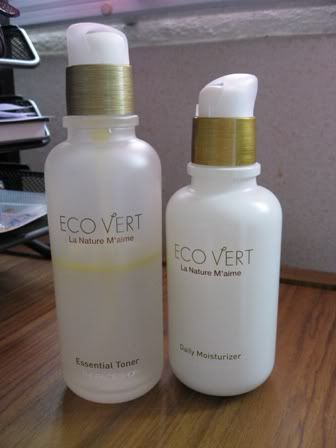 TW lent me this quite some time ago and I tried it out for a couple of weeks! Recently I've been quite crazy over skincare which is marketed as organic, paraben-free and natural etc, so I was quite excited over Ecovert.
I'm not too much of a Face Shop fan personally because they seem to have too many lines and have a 'budget' feel. Ecovert is their natural skincare line created with AMI, a renowned French manufacturer of eco-friendly natural products, so hopefully it's of better quality than what I've experienced with other Face Shop products.
I thought it was really cute that Ecovert has a French tagline - 'La nature m'aime' which means 'nature loves me'. The Ecovert range is paraben-free, artificial fragrance-free, alcohol free, organic pigment-free and mineral oil-free. It contains French rose extract, wild pansy extract (hydrating), thyme extract and 100% bamboo extract is used in lieu of water, which sounds really cool and makes me feel like an earth mother. Lol!!
The Face Shop Ecovert Daily Moisturizer
The bottle says it has a 'liquid crystal emulsion system' to prevent moisture loss. Sounds high-tech, but I have no idea what it means really. I guess it describes the texture - a sort of emulsion-cream with texture slightly reminiscent of gel-cream. It smells really nice in a natural, honey-floral way, kind of motherly but not mumsy... if you know what I mean.
It is relatively light in texture for its moisturizing ability, which is suitable for normal to dry skin, but not moisturizing enough for extra-dry skin. I found it clogged my pores on my T-zone a bit though, so it's definitely not for oily skin. TW says it's better for winter cos she used it then and loved it, but for humid Singapore... not so much. It's nice to use if you spend a long time in air-conditioning definitely.
Rating: 7/10
The Face Shop Ecovert Essential Toner
Written on the bottle is 'Before each use, gently shake container to activate formula'. It's a dual-phase toner apparently, as you can see in the photo, there's a layer of golden palm oil floating on top. Yes, palm oil. I was totally like OMG because palm oil sounds so comedogenic - and it is! They make it sound good though - 'Double-phase toner with essential oils and a top layer of Golden Palm Oil to add nutritive moisture to skin'. It smells very nice and is good at softening and prepping skin for more moisture. I guess this is good for normal to dry skins only.
Rating: 5/10
--------
I had an endoscopy yesterday - apparently there's inflammation in my digestive tract. I think it has been inflamed for quite some time because I have such horrible gastric problems. The doctor was kind of appalled when he found out - he asked me how long I'd been experiencing the symptoms - '1 month?' No, I said, I think about a year? And actually it's way longer than that, lol!
Oh well, back to studying! Finals in a week.