I was really tired so I decided to take a break and blog, and also to let you guys know this blog is still alive!!! So I decided to do a review of this cream I really really love and will probably repurchase a million times over. (: [More regular reviews to come... my sisters like to say that my room is like a mini-Watsons' so I think I'd better do some good with the $ I've spent... the good thing is, I've stopped spending so much because now I no longer have much space to store my products, haha!]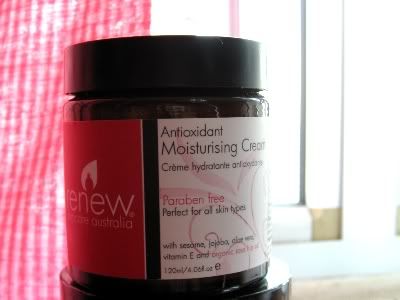 Renew Antioxidant Moisturizing Cream
I find Renew as brand very very similar to
Sukin
! They're both from Australia and are organic and paraben free, and they use similar ingredients as well, except in different quantities probably. The only differences would be that Sukin smells divine while Renew is either neutral, or borderline icky but bearable (rosehip oil). Also, the price points - Renew is a bit pricier than Sukin - the Sukin face wash is $13 while the Renew is $20. (These are rough estimates; I'm pretty bad with money and my memory fails me quite often as well. Ha!) Renew does have bundle packs though - they often sell the rosehip oil with either the cream, cleansing gel or face mist(both full-sized!) for $29.95 which is a great deal!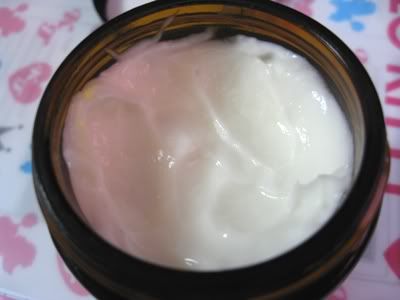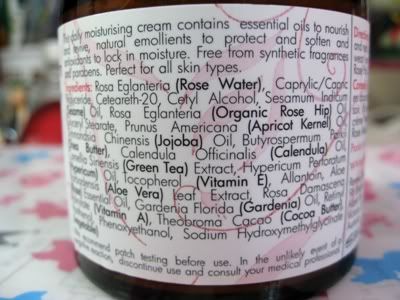 I have seriously oily skin so it seems weird to use a moisturizing cream but I'm a big believer of the idea that oily skin is actually dehydrated underneath. The surprising thing was that this cream feels really light and leaves my skin matte - the finish was straight matte, unlike the
Sukin moisturizer
which left a slight dewy sheen. It feels a little tingly (not minty, but just subtly energizing) and not greasy at all, unlike the Sukin one which is more 'oily' and liquefied in texture due to the essential oils in it (the Renew moisturising cream doesn't contain essential oils). Basically the texture for Renew was more solid, like spreadable margarine! (without the oil.)
I felt Renew was less moisturizing than Sukin which was surprising since Renew's is a cream while Sukin's was a lotion. Still, it's moisturizing enough for normal skin, and for dry-skinned people, it can be layered over their
rosehip oil
for extra hydration. The Renew cream is scentless and I really like it cos it's light, it keeps my skin matte and helps a bit with oil control. Consequent use will bring huge improvements to your skin! I find it really brightens and wakes skin up, just like the rosehip oil. I use the cream in the day and the rosehip oil at night (cos it's too oily for day). And it's very gentle - when I'm lazy, I use it in place of eye cream. And there's just so much of it in the jar, you can use it on your neck as well. (They always tell you to smooth over face
and
neck but I hardly do cos you'll use up product faster, but you need to use this within 6 months cos it's organic, so I feel free to use it everywhere.) The only con I can think of is the jar container which is unhygienic if you keep dipping your fingers into the cream, but I'm a hygiene freak and I use a spatula which I always clean, so that's fine for me.
Rating: 100/10!!! :D Awesomeness!!!