Here's a review of the Chagrin Valley complexion bars I currently own. I'm expecting another bar of Grapeseed Shea complexion soap and I hope to get the Primrose complexion bar soon since it's a seasonal item. It is so addictive omg.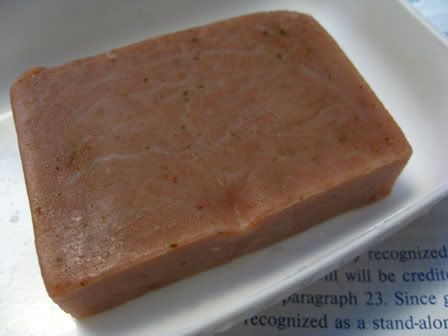 Shea Rose Clay Soap
Shea rose clay is my favourite of the lot! It cleans well because of the french pink clay in it, it smells wonderful like rosewater and leaves my skin uber soft. It contains coconut milk as well and rosehips which I am convinced are great for the skin (judging from my friends' and my experiences with rosehip oil). Overall a great daily cleanser for any type of skin. It's a pretty good body bar as well, just that it's not as moisturizing as I'd like for a shower.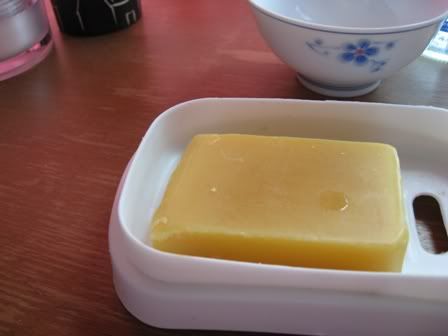 Carrot and Honey Complexion Soap
This is supposed to be good for mature skin since it contains carrot for beta-carotene and vitamin A, but it's my least favourite of the lot (which is not to say I dislike it) because it doesn't seem to clean as well (which I guess is due to the absence of clay). It's the most moisturizing though, since it contains goat milk. I find it works better when used with a muslin cloth.
Muslin cloths are typically used with cream cleansers but I use it all my cleansers when I want extra exfoliation. I get mine from The Body Shop (they come in a pack of 3). I'm really hoping to get the famous Eve Lom ones though they're bloody expensive, but that's another story for another day. Using it with muslin helps it clean better - you can see the grime coming off and it provides very gentle exfoliation.
The carrot and honey bar fares better as a body bar for me because it's more moisturizing, but that's because I have oily skin - I'm sure people with dry skin would love it more on the face.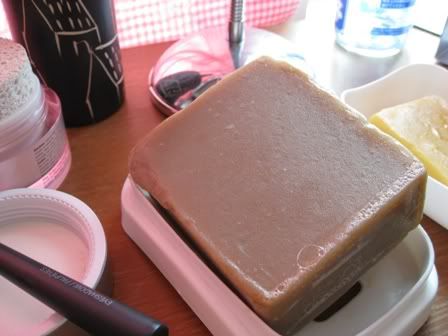 Rhassoul Clay & Yogurt Complexion Soap
This smells interesting but I have no idea how to describe it - slightly citrus and spicy. Quite different from the other soaps they have. I got this because I heard wonderful things about rhassoul clay. Plus it has yogurt which is a pretty good ingredient since it made me think of
yogurt masks
and the lactic acid it contains which can help exfoliate and clarify.
I think it's a really good deep-cleansing bar, good for people who have oily skin or are prone to breakouts. It leaves my face slightly tight from the clay and it's the least moisturizing soap of the lot, so I wouldn't use it all the time, but only at night when more heavy-duty cleansing is needed to remove the day's grime, or a couple of times a week as a treatment. It's also good for a shower occasionally, I find it helps clear up heat rashes on my back.
--------
About the size, for Shea Rose Clay and Carrot Honey, I got samples and for Rhassoul Clay I got a full bar. As you can see from the photos, a full bar is ginormous and can't even fit into my soapdish! So I'll just cut a bar off to use and keep the rest. A sample size can last me about a month, and a full bar probably at least 3 months! They're really good value for money since they cost the same as all the other Chagrin Valley soaps and last much longer since you don't need much for the face.
In short, I highly recommend the Shea Rose Clay bar. I love it so much! I can't wait for my latest Chagrin Valley haul to arrive - it should be here next week. (: