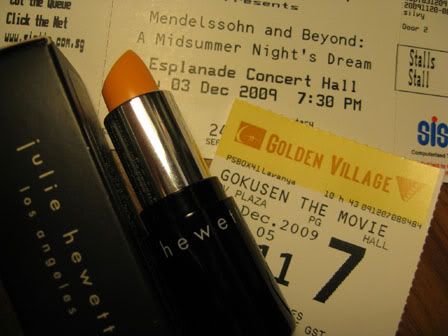 I got this Julie Hewett camellia lip balm stick free with Chic magazine - it's only S$2.80! It looks a really cool orange - like something Limecrime/Doe Deere would wear, but it goes on clear, sadly. I really like the packaging, it's way classier than the other sticks around and the balm itself is really moisturizing cos it's made of camellia oil. Very addictive!
As for the magazine, Chic is more like a catalogue with reader-contributed content like reader's styles, beauty tips etc. It's very budget in feel with no articles but rather listings of pretty things, and with many blogshop advertisements since the advertising is really cheap - $175 for a quarter of a page. I expect they guarantee readers by offering freebies with every issue, or that's what I guess their business model is. Interesting!
Today's the first rare day since my 'holidays' started that I'm home for a large part of the day. So far I've gotten offers for each of my 3 interviews and I'm hoping my decision will be the right one...