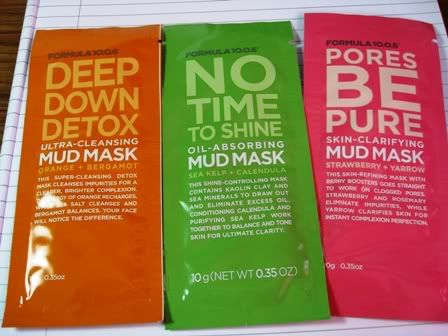 Usually when I see little individual packs of things at the drugstore, I'll buy them cos they're cheap and you can sample them! So I end up with many small bottles and satchets of stuff. Formula 10.0.6 is a relatively new brand on the shelves so I grabbed these satchets a while ago to try out. I've since purchased the full-sized version of the green one and the orange one. Samples work! If only they were free. :P Each sample is sufficient for 2 or 3 applications.
Deep Down Detox - Ultra-cleansing Mud Mask (Orange and Bergamot)
It's a pastel orange clay mask that smells like orange candy! (Like orange frutella!) I noticed that this is the only one out of the 3 masks that does not contain salicylic acid, which I guess explains why it doesn't sting like the others did. My skin feels really clean after using it, and it's not drying at all, unlike many other mud masks I've tried.
10/10
No Time To Shine - Oil-absorbing Mud Mask (Sea kelp and Calendula)
It's a greenish clay that smells slightly floral with an undertone of sea kelp. (Or that's what I think... not a very pleasant undertone but it's bearable and grows on me.) It stings a bit at first, but it's not drying, and leaves my skin really soft. It really helps to bring deep-down gunk onto the surface and leaves pores smaller and skin smoother. Be sure to use toner after this though - even after I rinsed my face many times with warm water, I'd still get traces of green from the mask on my cotton wool. This is my sisters' favourite as well. (They use my stuff like it's free, lol.)
10/10
Pores Be Pure - Skin-clarifying Mud Mask (Strawberry and Yarrow)
It's a pastel pink clay with a sweet strawberry scent. It contains salicylic acid as well and really stings like crazy!!!!! I find this is the worst clay mask I've tried so far... it feels like my blemishes are aggravated and they look more pronounced after using the mask. Good points - non-drying. Doesn't seem to do much else.
2/10
I do recommend getting the orange one and the green one... they're quite affordable and I like them because they're non-drying unlike other mud masks. I wouldn't use them rightaway after exfoliating since they might sting, and if I did a chemical scrub, I'd wait a day or so before using them. (Totally gave up on the pink one though.)
--------
[rant]The dates for the ballet exams in March are out, but the date for my violin exam is still not out even though it's the same period!!! So annoying. I need to settle on a pianist and make sure the dates don't clash. Why is the organizer so inefficient?! Grr. [/rant]