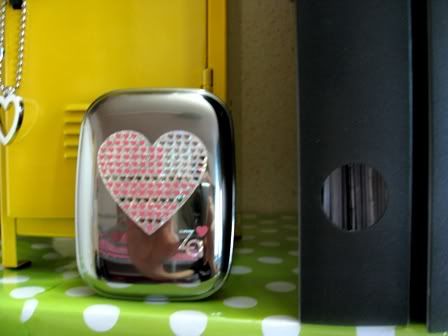 I bought this for the amazingly pretty case which just can't seem to be captured clearly by my camera.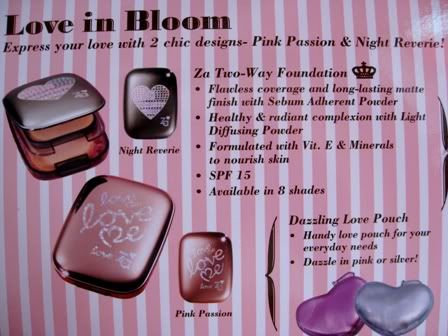 It was some sort of Christmas promotion - you get a free refill and heart-shaped pouch. It's still available now! The pink case doesn't look as cute huh, but it came with a pink heart pouch. My case came with a silver heart pouch.
I figured I should probably try out the ZA Two-way Foundation since practically everyone has used it before and I wanted to see what the fuss was about, especially since I read the great review from
A Touch of Blusher
.
I'm about a MAC NC25-30 and #22 fits me fine. I'd say it's a pretty boring wear-to-work kind of foundation because it doesn't have any shimmer and can look a little flat and dull on its own, but I wear it with shimmer sunscreen underneath or with Guerlain Meteorites over it, and it looks more 'alive'. Coverage is medium and buildable, but usually I use a brush for sheerer coverage. I find a heavy coverage looks fake and flat, and this one can get a little cakey if you build it up.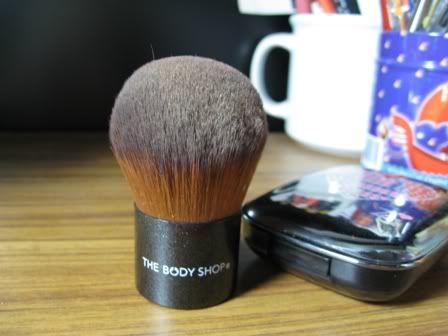 Pros:
It controls oil pretty well and gives a matte finish. A blotter is all you need to keep it fresh. I can apply it really fast in the morning using my kabuki brush (above). It looks great when I use a kabuki - I use it like I would use loose powder but it gives better coverage that stays and blurs pores pretty well. I can also wear it all day and it doesn't clog my pores much, unlike the Maybelline Angelfit 2-way. My favourite thing about it is that it doesn't make my face white with flash photography. And it contains spf 15, and is really cheap!

Cons:
Colour that is a little flat (no shimmer), and it may be a little too drying for people with dry skin. If you use a sponge, it can apply cakey and uneven, which is why I use a brush. I hear it applies better wet though, but what I do is I use the brush to apply dry, spray a face mist and blot the moisture off - it allows the makeup to melt into the skin and look more natural and less powdery.

I hear some make-up crazed people in my school can go through an entire 2-way cake in a month! Perhaps they do a lot of touch-ups (I hardly do as I prefer using brushes and touching-up seems unhygienic to me, the hygiene freak) and slap a lot on throughout the day. For me though, it's been a month and I've only made a little dent. I estimate that I can finish it in a little longer than 3 months if I use it every day. I used to be a liquid foundation and powder kind of person, but time constraints have made it impossible. ;_; So this for me would be a great 2-way to use in the morning before I rush off to work/school, especially in my future profession where I predict I will be extremely worn out and pressed for time. ;_;

9/10 (great budget find!)