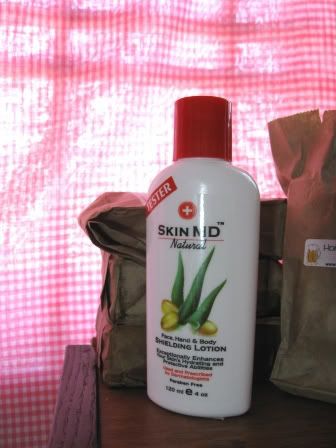 Recently Skin MD Naturals sent me a bottle of their Shielding Lotion to try out. Apparently they have this massive online marketing blitz and lots of people have reviewed it but I must have been living underneath a rock because I never knew! Anyway, on to the review.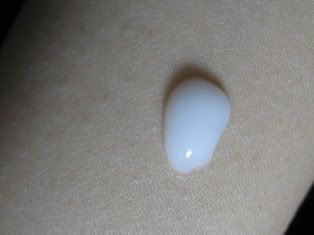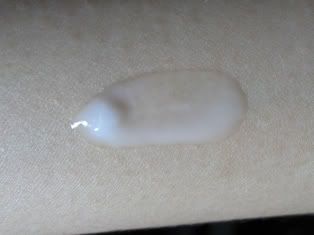 As you can see, Skin MD Naturals is a really light, watery gel-lotion with a nice neutral scent that reminds me of those simple, no-frills and fragrance-free products you might get from a dermatologist's. It's very easily absorbed and is totally non-greasy, which is a delight in Singapore's hot weather. The best thing is that it's a multi-purpose lotion for face, hands and body, which is such value and convenience in a bottle! (I can totally imagine packing a bottle in my luggage when I travel to save space.) Plus, it's paraben-free!

When I first received the lotion, I was having a really bad cold and so I had really dry hands from washing my hands all the time to prevent myself from infecting others. (I have really dry hands usually anyway, cos I'm a hygiene freak and wash my hands all the time. My sisters cannot stand it when I keep applying hand lotion, lol.) My entire stash of hand creams couldn't help, because the hand creams don't stay on my hands long enough to be of much help, since they get washed away once I wash my hands. So without hoping for much, I decided to try the Shielding Lotion.

The first thing I noticed was that it's totally non-greasy, yet really moisturizing, unlike many other handcreams. I need my handcream to be non-greasy especially since I'm a part-time pianist and can't be greasing up the piano keys. The Shielding Lotion absorbs like a dream and seems to form this protective layer which doesn't wash away as easily as my other handcreams. During the first couple of days, I had to reapply frequently as per my usual habit, but after that I seemed to regain the protective layer on my hands and didn't have to apply as frequently. Plus, my sisters are always complaining about the lavender fragrance of my favourite Crabtree & Evelyn handcream, but they seem fine about the neutral scent of Shielding Lotion.
I started reading the brochure they sent me, and I realised it could be used on the face, and some blogger actually tried it as an eye cream. It sounded so promising, I decided to try it as well! The texture of the lotion is so light, I have absolutely no qualms about using it on my face - it's lighter than Clinique's Dramatically Different Moisturizing Gel, but just as or even more moisturizing. Seriously, any kind of skin, from dry to oily, will love it. It's totally oil free and absorbs like a dream, and is a great base for smoother make-up application. Non-comedogenic, so no worries about breaking out. I expect people who enjoy using the fragrance-free Simple Skincare products for sensitive skin would love this lotion as well.
I tried it under my eyes as well, it moisturizes so well and leaves my under-eye area smoother and my fine lines less noticeable. (Yes, I have fine lines - from rubbing my itchy eyes and tugging when putting on my contact lens and applying/removing concealer. Sigh.) Of course, it's not marketed as an eyecream so it doesn't help remove dark circles or anything, but for hydration, it's awesome. And for the price - so worth it!
10/10! (budget HG material)
I know this is a really long review but I am so impressed with it, it's really affordable and you can use it for so many different purposes, I'm definitely packing a bottle with me when I go to the US in May. According to the website, Skin MD Natural is available in Singapore as well, I think maybe in Guardian pharmacy, but I haven't had the time to check it out. I am definitely repurchasing if it can be found locally! There's a version with SPF15 as well for sun-protection, I expect it'd be great for lazy days when I don't feel like applying sunscreen.
Note: This is obviously not a paid advertisement. I was sent a bottle by the company to try out, and I personally didn't expect it to wow me this much, especially with the no-frills look. Seriously. :O I am utterly surprised I couldn't find reviews on Makeupalley.