I'm down with a really bad cold currently, so I'm really sad cos Chinese New Year is coming and I won't be able to have my favourite goodies cos they're too 'heaty'! :( I'm too sicked out to study or anything, so I decided it's a good time to come online and write something I've wanted to post for so long - tinted sunscreens!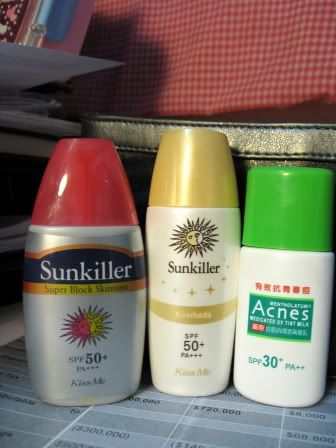 I'm talking about those Japanese fluid-type sunscreens, in skintone tints. So far I've only been able to find 3 of them - (from left) Kiss Me Sunkiller Super Block Skintone SPF50+ PA+++, Kiss Me Sunkiller Kirei Hada SPF50+ PA+++ and Mentholatum Acnes Medicated UV Tint Milk SPF30+/50+ PA+++. I know there are tinted sunscreens from brands like La Roche Posay and Vichy as well, but the formulations aren't as lightweight as the ones I have - they're more sticky and thick.
I really like these tinted sunscreens a lot - they provide very sheer coverage, really good oil control, act as a pretty good makeup base (blurs pores) and they're more lightweight and blendable than BB creams which are a pain, in my opinion. (I still amassed a huge BB cream collection though, which I might do a post on this week, since I'm in no mood to do any work, haha!)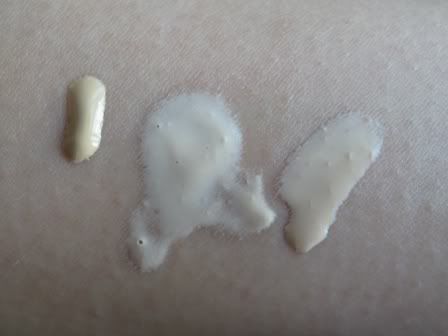 Swatches from left - Sunkiller Super Block Skintone, Sunkiller Kirei Hada, Mentholatum Acnes UV Tint Milk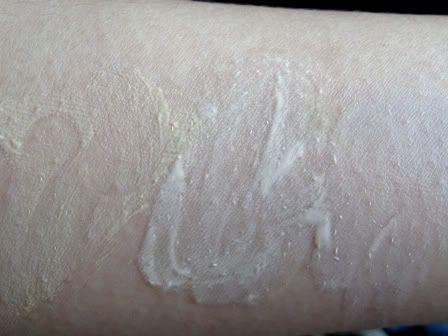 Swatches after slight blending (or smearing, haha)
Super Block Skintone is the darkest of all the shades, while Kirei Hada and Mentholatum Acnes are lighter. Super Block Skintone and Mentholatum Acnes are flat, matte colours while Kirei Hada has a beautiful pearly finish with slight shimmer.
One thing to note is that while they are 'tinted', it's essentially a white base mixed with some colour... so if you're taking flash photos, you might still appear whiter in the face. They might look dark at first, but when blended out they become paler as the white undertone appears.
Review: Kiss Me Sunkiller Super Block Skintone SPF50+ PA+++
This is the most expensive of the lot (can't remember the price exactly), but I think it's because it contains caffeine extract to help tighten and firm skin. The tint might look dark but it's still pretty light when blended, and can suit skin up to NC25 in my opinion. It gives a lovely matte look with good oil control. I haven't noticed anything about lifting and firming, but I expect that's more for mature skin? This has the best coverage of the lot.
Review: Kiss Me Kirei Hada SPF50+ PA+++
This is my favourite of the lot! I've repurchased it many times. It gives a pearly glow and really blurs pores, with slight shimmer, and really gives a dewy skin effect which might seem like overkill on oily skin, but if you follow with powder it gives a really natural effect, and it has good oil control as well. It's more like a makeup base since it's very fluid and blendable, and doesn't really even out skintone all that much. I like to dab a bit over my dark circles, it helps me look more awake and hopefully keeps my dark circles from getting darker from the sun.
Review: Mentholatum Acnes Medicated UV Tint Milk SPF30+/50+ PA+++
There are 2 types of this available - in either SPF30 or SPF50. I bought the SPF30 in Taiwan, and I have the SPF50 which I bought in Singapore. It's the most affordable of the lot, only about $9 a bottle, and most widely available in all drugstores.
At first the colour looks a bit dark, but when blended out I feel it's actually the palest one. It has a nice scent (typical of all Mentholatum Acnes products), and texture that is slightly thicker than Kirei Hada and slightly more difficult to blend. It may appear chalky on darker skintones, I expect skintones up to NC25 should have no problems with it. It's supposed to be good for acne-prone and oily skin, and I like the oil control, but it might be too drying for people with dry skin. While I've never had problems with it, I've heard of people breaking out from the mineral oil content in it.
--------
Basically, they all have good oil control (which is more than I can say for BB creams, blah), but as they adhere very well to the skin, you really need to remove them with makeup-remover after use to prevent breakouts. Sunkiller sunscreens tend to have high alcohol content as well, which might irritate sensitive eyes if you use it around the eye area. (I wear contacts and sometimes my eyes get irritated, so it might be good to avoid putting sunscreen around the eye area.)
It's quite difficult to find the Sunkiller Super Block Skintone and Kirei Hada around in Singapore (they're not available in Watson's or Guardian), but I get mine either from BHG Bugis or the pharmacy section of Robinsons.
Do try these out - I really believe they're way easier to use and less likely to clog pores than BB creams!