Haha, I know it's already March '10 but these are things I bought in '09 and I'm a little anal about the titles of my posts because I want them categorized neatly, so this is my tiny list of 2009 raves and regrets! It's a small list off the top of my head because I just recently finished using them.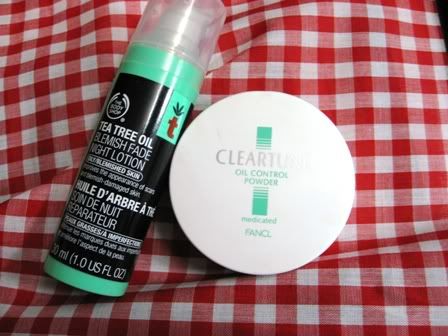 Rave: The Body Shop Tea Tree Oil Blemish Fade Night Lotion
This is an awesome awesome moisturizer that really helps to calm my skin without any stinging whatsoever! It's a light green gel-lotion, kind of sticky and concentrated, so I find I need to use a lot of product. So it's kind of expensive because I use it up really quickly, but so worth it! I think it's really sad for dry-skinned girls who get blemishes because most anti-blemish products on the market are so drying, but the great thing about the night lotion is that it's quite moisturizing, doesn't dry out my skin at all and soothes my skin so that my pores are smaller, zits decreased, and I wake up with this smoothness which is quite amazing. HG!
It's a night lotion, so I usually use it at night, but I find it can be used in the day with no issues, however the stickiness might feel weird. It controls oil slightly, and sunscreen or foundation etc can be layered easily over it.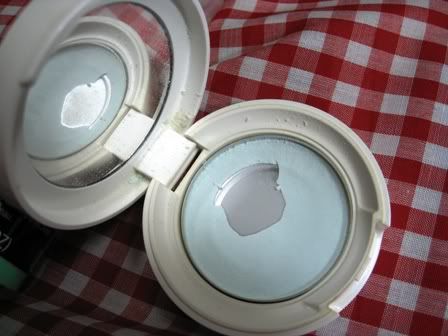 Rave: Fancl Cleartune Oil Control Powder
I use this every day with a big brush, over my t-zone before loose powder. It has the most amazing oil control ever. Comprehensive review
here
. Quite expensive since they don't sell refills, but still HG!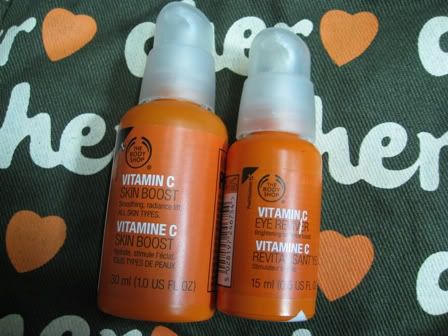 Regret: The Body Shop Vitamin C Skin Boost
I read so many reviews on this so I was very excited about trying it, but unfortunately, after
TWO
expensive bottles of the stuff, there is no noticeable difference on my skin. :( The Skin Boost should be used like a serum because it has no moisturizing abilities whatsoever and makes my skin dry and itchy when used alone. It has a silicon-gel texture, kind of powdery which makes it slightly difficult to layer other products over it because it rubs off. The one good thing about it is that it smells divine!!! Like grapefruits, citrusy and refreshing.
I know the high silicone content in it will scare people off, but Vitamin C is very unstable and silicone is an excellent medium to keep it stable and active. Therefore I have no complaints about that aspect, but the fact remains that I didn't notice any improvements. :(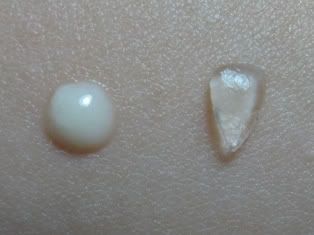 L-R: Vitamin C Eye Reviver, Vitamin C Skin Boost
Regret: The Body Shop Vitamin C Eye Reviver
The Vitamin C in this is supposed to lighten dark circles, but I didn't notice any effects. Plus, I found this insufficient in moisturizing and it did absolutely nothing for fine lines. The only thing going for it is the pump bottle which I like for the hygiene factor.
--------
I feel quite depressed writing bad reviews about products that didn't work for me, because I'll think of all that money that went down the drain! Then again, I hope it'll help others and prevent you guys from wasting $! Of course, it's just my opinion, there are probably many others who loved what I hated - the incredibly popular Skin Boost is an example.
In other news - I watched Nodame Cantabile the movie last week!!!!!!! LOVE IT!!!! I love movies/dramas about orchestras like Beethoven's Virus and Nodame because it makes me want to cry when I see them depict regular people with regular jobs who persist with practising late at night because they love music so much. ;_; I can't imagine how I'm going to continue practice when I'm working, but I will, I will!
Oh well, I'm off to school now... So many things to do - somehow I feel that my honours are unattainable because I can't seem to find the motivation and anyway I've already found a job, but that is a negative way of thinking and I need to get it going!