I bought the Bourjois Mineral Matte mousse foundation on a whim and also because I read awesome reviews on MUA!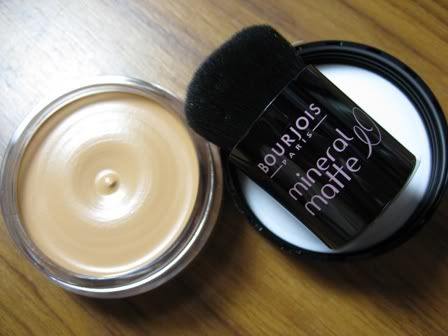 The saleswoman was one of those middle-aged women who spoke to me in Mandarin. I find saleswomen who speak to me in Mandarin are usually more pushy because they can get away with it, if you know what I mean. Speaking in Mandarin makes them seem more... 'friendly' and well-meaning instead of being 'hard-sell', so it's more difficult to reject them when they speak in Mandarin. Pfft.
Anyway the woman tried to recommend me shade 82 (Vanille delicate) but in the end I opted for shade 83 (Sable Fondu) because my face is paler than my neck and I hate the white-faced look. I guess shade 83 is good for people with MAC NC30 skintones. There are only 5 shades (81-85), so 83 is in the middle. I find the variety of shades sadly limited! Plus, in Singapore, the kabuki brush is sold separately, and it's not very cheap really, for Bourjois is essentially still a drugstore brand. I got them both for about S$40 in total (after a 20% discount).
Still, this foundation is seriously awesome if you manage to find your colour match. It is really really pigmented (like regular mineral foundation) so I find I only need to dip a super small amount onto my brush and buff buff buff (as with regular mineral foundation) and voila, veiled skin! It does contain silicones to give that smooth finish, but no mask effect (as advertised). And because I use so little of it, I really think it could last me an entire year (or even longer)!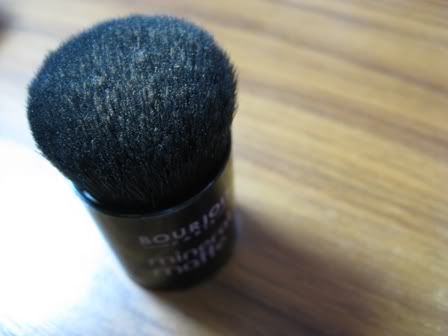 Before I used it, I was apprehensive about how hygienic it would be to use the brush consecutively. (I wasn't looking forward to washing it every day). The photo above is the brush after I used it once. Surprisingly, after buffing the mousse in, few traces are left on the brush. After I got used to it, I can buff till the brush is pretty much free of foundation. So I have no qualms about using it every day, and washing once a week.
The best thing about this foundation - it's really light, with sheer coverage (if you use really little and buff it in) that is absolutely buildable (due to the awesome pigmentation). It does a pretty fantastic job of evening out skintone, and while it doesn't cover my acne scars completely, I think it does a commendable job on the under-eye circles! And I can get away without using loose powder on top of it because it's pretty good at controlling oil! The only con I can think of it the flowery scent which may scare some people off, and made me feel weird at first, but now I'm totally used to it.
Rating: 9/10 (-1 for poor colour selection)
--------
So I've almost come to the end of my busiest week for the semester! Yay! I went to collect my Gelato Pique mook at Kinokuniya today and passed by so many shopping temptations, you cannot imagine. But I remained strong. -cough cough- 1 more month to the end of my shopping ban! :P