Gosh I've been so busy these days I've been neglecting this place! I managed to dig up some old photos of stuff I'd always been planning to review though. I'm a collector - I like to collect the same product from different brands, so there you go - my collection of tints from half a year ago. I've since added SugarBaby to the stash, but my camera batt's flat, so no pictures. :( Sugarbaby's Lip, Eye and Cheek Tint is really good - I love the one in Peachie Glow, the colour is awesome but unfortunately it has low staying power.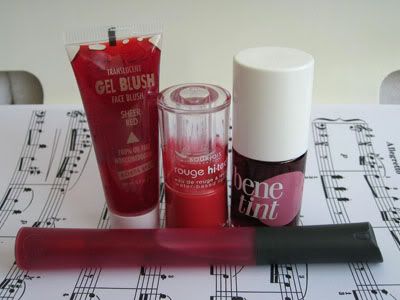 Bonnebelle Translucent Gel Blush, Bourjois Rouge Hi-tech, Benefit Benetint, The Body Shop Lip and Cheek Tint (in old packaging)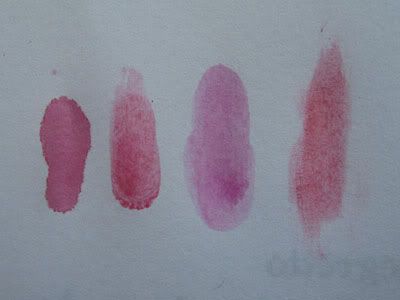 From left: Benetint, Bonnebelle Gel Blush, Body Shop Lip & Cheek Tint, Bourjois Rouge Hi-Tech
Benefit Benetint
We've all heard of this, so I'll be fast - I like the nice rose-syrup scent, and the natural rosey flush, but the fragile glass bottle is super inconvenient. I find the lasting power is also not that great. The brush applicator is ok.
Bonnebelle Translucent Gel Blush in Sheer Red
The colour is a straight bright red, and looks scary in the tube but it gives a lovely flush when blended out. It smells very artificial though, and I've actually tried it as a liptint though it isn't supposed to be one, and it tastes nasty. Works well though! Lasting power about the same as Benetint, but it is so much cheaper. I know it's available in peach as well.
The Body Shop Lip & Cheek Tint
This is the one in the old packaging - I've since repurchased the one in the new packaging and it's totally the same. You can see that the colour is quite different from all the others - it's very much a purplish fuschia, on the lips it makes me look like I'd been sucking on grape ice lollies. On the face it blends out very subtly into a nice wash of colour. This is really drying on the lips though. Can't do without a balm after that. Better lasting power than Benetint and only available in one colour. It has a doe-foot applicator.
Bourjois Rouge Hi-Tech in Rose Pixel
This is the most most most pigmented of the lot! Seriously! The others give sheer watery looking flushes, but this is almost opaque. It's still very light in texture since it is water-based, but the intensity of colour is amazing. Not for the faint-hearted. Staying power is awesome. But overall I find this is not the one for me - I prefer a more natural look. The good thing is, it's available in like 6 colours! All very pigmented. It has a doe-foot applicator.
--------
Anyway, The Body Shop's tint is actually pretty much the first make-up item I owned because I was broke and I needed make-up for a concert and it fulfilled 2 purposes so it was great value for money! I like to collect tints and stains because they're so easy to use, just smear it on, and you can't possible go wrong with it, it looks so natural.
The thing about tints and stains is that while it's so convenient to have a product for dual purposes, I'm a hygiene freak and it worries me to use the same brush/doe-foot applicator on my cheeks and lips. I actually repurchased the Body Shop's tint, to separate the usage. Then again, you could always dab it on a clean finger.
I've also tried Origin's Pinch Your Cheeks - it's a small metal paint-tube and super expensive, but very pigmented and I love it. It gives a sun-kissed look, like you've been a little sunburnt and it comes in a bunch of colours. As for Sugarbaby, they have a Lip, Eye and Cheek Tint (why eye, I have no idea) which is a gel in a tube and I love the Peachie Glow which is actually quite plummy, though lasting power isn't that great. They have other colours like Pink Ink as well.
I'm hoping to try out lots of other tints/stains as well - Tarte Cheek Stains, Suki Pure Natural Cream Stain, Stila's Cherry Crush Lip & Cheek Stain... But first I must finish up some of my existing stash. :P
--------
It's a pretty busy couple of weeks for me so I won't be updating much. I've been subsisting on coffee again but I really don't think it's weird? This 9-year-old kid at my workplace saw me having my coffee fix and she was like "You're drinking coffee at 2pm?! You won't be able to go to sleep at night!!!" (Then again, she has a 9pm bedtime, so...) -_-U I'm so tired I could sleep drinking coffee just before bed. But - 2 more weeks to the end of my exams and university life. ;) Fighting!