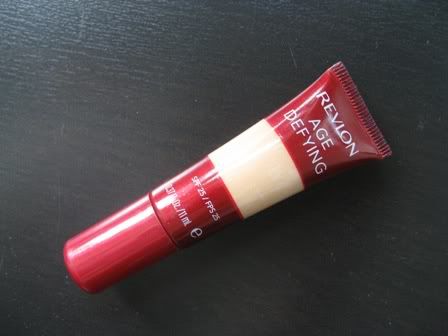 In the US, I went crazy at Walmart and bought a whole tonne of stuff, mostly stuff I'd remembered reading good reviews about on MakeupAlley. But this one, I just picked up because it looked promising, and it apparently 'hydrates like an eye cream' (sounds amazing huh), plus it has SPF 25!!! It is so difficult finding eye products with SPF, and SPF 25 is really high (my Estee Lauder eye cream only has SPF 15). So I just grabbed it and put it in my trolley along with a whole bunch of other stuff.
I bought it in Medium (because I got a tan), and I just realized that I have the Age Defying Spa Concealer in Light-Medium I bought a couple of months ago, so I can do a comparison! Both of them come in 4 colours - from left: Light, Light-Medium, Medium and Medium-Deep.

The Light-Medium was pretty good for when I was NC25, except I wasn't thrilled with how it was slightly chalky. Now I'm about NC35, the Medium's good, especially since it has strong yellow undertones which is great for Asian skintones.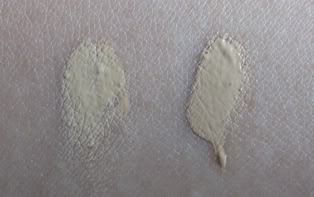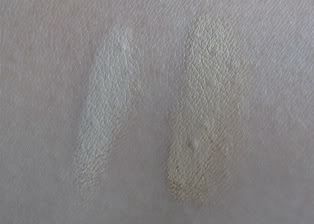 From left: Revlon Age Defying Spa Concealer (Light Medium), Revlon Age Defying Moisturizing Concealer (Medium)
As you can see, they don't look very different in texture or colour at first, but when blended out, the Spa Concealer is obviously much lighter.
Revlon Age Defying Spa Concealer
+ Illuminates and brightens
+ Not cakey, very subtle
- Brush is a little annoying sometimes when product doesn't dispense well, might be a little unsanitary
- Coverage isn't that great
Overall, good for slight brightening, not for people with serious dark circles. I would prefer L'oreal's Touche Eclat over this one, because it's cheaper and has slightly better coverage, and better shade options that suit me (more yellow undertones).
Rating: 8/10
Revlon Age Defying Moisturizing Concealer
+ Great coverage without being cakey
+ Lovely creamy consistency, moisturizing
+ SPF 25
+ Tube packaging is easy to use
+ Looks really natural
Bottom line: The best concealer I've ever tried!!! Other tube concealers I've tried are the really popular ZA Concealer Perfection (which is raved about for the great coverage), but this beats it hands down. ZA's has great pigmentation and a little goes a long way, but it has no SPF, is slightly cakey and can look powdery. This one, on the other hand, is a dream to blend, not cakey at all. Of course, it's more expensive, but it's so worth it!
Rating: 10/10
I am so happy I have found the perfect perfect concealer. I will never buy any other ever again! (I'm serious) I'm thinking that the only thing that can be improved would be to use them together. Like for Bobbi Brown, you have to use concealer first, then the tinted eye brightener over it. Perhaps I'll try using the Moisturizing Concealer first, and the Spa Concealer over it for more illumination.
One thing to note: As far as I know, there are only 2 shades of the Spa Concealer available in Singapore - Light and Light Medium. I don't know if the Moisturizing Concealer's out yet. I do hope they bring it in!
--------
I had dinner at Tajimaya at Vivocity the other night because my sister got promoted again! Ended with dessert at Bakerzin.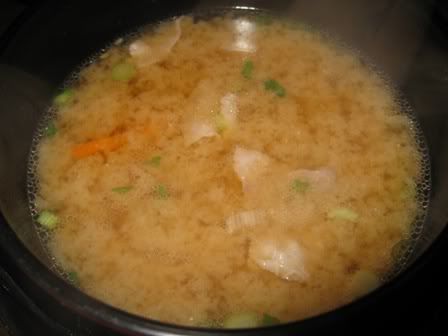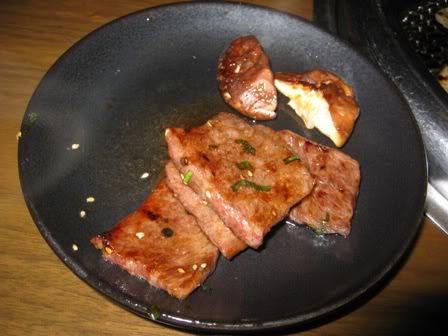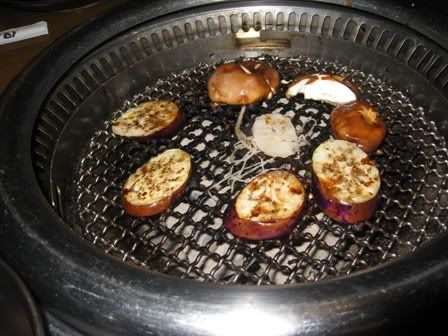 I loved the garlic rice, though it was a tad salty. I hate eggplant, but the eggplant here was great. And of course the wagyu karubi was yummy. I wasn't too crazy about barbecuing the stuff myself though. (And I never quite know how to take photos of food when we're barbequing, because plates of raw food look unappetizing, but when we're done barbecuing, the food looks weird too because we don't plate them) The warm chocolate cake at Bakerzin was awesome too, tasted like oranges.
The things that made me sure I was back in Singapore was all the Chinese waitresses who can't speak English, and the managers who say "Welcome" and "Thank you, have a good evening" looking really fierce with nary a smile on their faces. Can't blame them though, we don't practice tipping in Singapore, and I didn't really like smiling either. In the past.

I don't know, I do feel the US has changed me, if just a little bit. Yesterday I had lunch with a friend who's working 7 days a week (which is something I used to do), and suddenly I remembered something my friend Josh (who is American) said. One day when I was complaining about how much I wanted hours and how I needed money, he was like, "But you haven't done anything fun today!!!" I guess what I'm aiming for right now, is more of a work-life balance. Still slightly more skewed to work, but that's better than pure work, right? (:
Till next time!