Omg it's been 2 weeks since I last blogged; I never imagined blogging would become a chore. It's kind of tiring when I get home from work, and weekends are for catching up with chores and exercise and music. My current record for leaving the office is at 1am. I hope it won't be broken.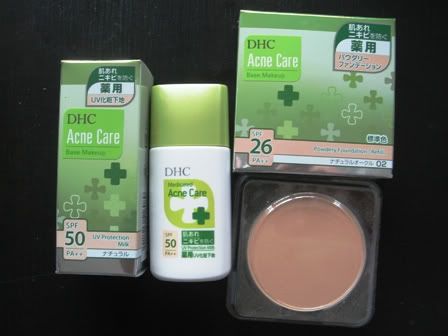 Anyway, sometime last week I couldn't take it anymore and went out to Watson's to spend some $ and make myself happy again!!! Amongst other things, I bought UV Protection Milk and Powdery Foundation from DHC's latest Acne Care range!
DHC Acne Care UV Protection Milk
I had to go out and buy a new sunscreen because my beloved
Sunkiller Kirei Hada
is no longer sold in department stores in Singapore, and is only sold at Nishino Pharmacy (in Isetan) at a higher price of about $18! (It used to be sold at Robinson's or BHG for about $13, even cheaper if you get a 20% store discount.) But guess what? This new DHC UV Protection Milk costs about $31. -_-U Forgive my illogical reasoning... I just felt like trying something new.
It claims to protect and mattify, fight bacteria in pimples, minimise appearance of pimples and roughness, conceal pores, eliminate shininess on the forehead and of course protect skin from UV rays, while maintaining a smooth finish without a sticky feeling. Here's the ingredient list: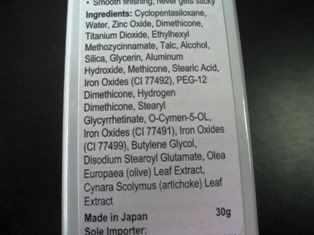 It is by far the lightest feeling sunscreen on my skin, and totally non-oily/greasy, unlike Sunkiller Kirei Hada, which feels a little slick (maybe because of the squalane it contains). The DHC UV Protection Milk leaves a totally matte finish, but although it is tinted, I can't wear it alone because it is a mainly physical sunblock with zinc and titanium dioxide, so it leaves a whitish cast on my face. Oil control is pretty good and it functions really well as a makeup base with its smooth finish. As for acne care, my skin seems to have become calmer and with less flare-ups. It won't make your zits miraculously disappear but it will help prevent breakouts from ocurring, when used in conjunction with other blemish-fighting treatments.
Rating:
10/10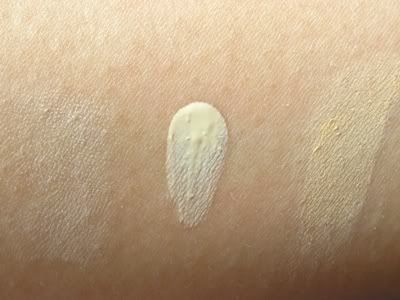 Swatches: UV Protection Milk blended out and unblended, Powdery Foundation
DHC Acne Care Powdery Foundation SPF 26 PA++ - Natural Ochre
As you can see from the first photo, I only bought the foundation refill because the case and puff is sold separately and I wanted to try if I really liked it first before investing in the other unnecessary stuff. Lucky I did that, because I really wasn't impressed by this foundation. Here's all the things it claims to do, and the ingredient list: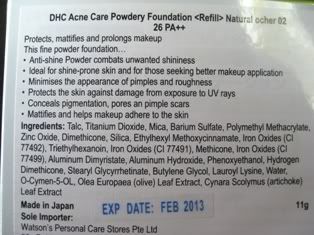 As a foundation alone, this gives light-medium coverage which looks really powdery on my skin. You know how most powder foundations smooth over and blur your pores? This doesn't. And other foundations usually set into skin to give a natural finish over time, but this one just looks
powdery all day
. It is indeed a powdery foundation. -_-U I guess it can be used as a pressed powder for touch-ups (instead of as a foundation by itself), but it doesn't control oil well at all. And when I wear it all day, it makes my skin feel kinda dry.
I chose the darkest shade which is 02 Natural Ochre, but it still seems chalky on me. I think it suits NC25 skintones, which is rather light for what is supposed to be the darkest shade. All in all, I'm just really disappointed in this product. I think it cost me about $32 for the refill while the case costs about $18 and the puff around $3. Not worth the money!
Rating:
Fail (I decided that for products that fall short of the 5/10 mark, I'm not even going to bother to give a rating. Lol.)
--------
Anyway I was sorting through my pile of Time magazines for recycling, and found this article on the toxic ingredients in cosmetics (click for larger image).
One of the things that freaked me out was the information about oxybenzone which is present in a lot of chemical sunscreens, including Neutrogena sunblocks! When I finish my back-ups (I bought lots of Neutrogena sunblocks in the US because they're almost $10 cheaper per tube) I'll definitely be looking for new body sunscreens.