I bought these in the US and I've been using them for 2 weeks ever since I started work. Physician's Formula has so many different pressed/loose powders that I don't really know the difference and which to choose, so I grabbed these 2 because they came as a set.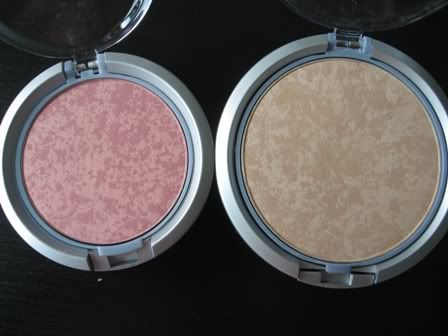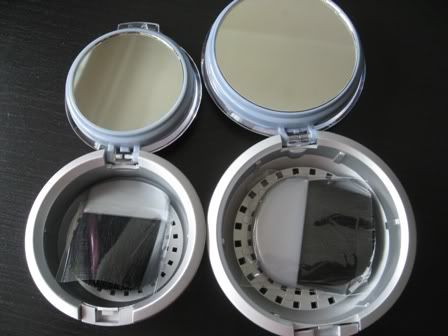 Face Powder:
I love how fine and pigmented the face powder is - it really gives a smooth canvas. It is not pigmented enough to cover scars of course, but it provides really good lightweight coverage that looks natural and minimizes pores. It's supposed to be a pressed powder I think, but the coverage is like that of a powder foundation.
The only negative is that it's not very good at oil control. For that, I use a separate oil control powder underneath it and it works quite well. At the very least, it doesn't make my face any oilier than it usually is. Another thing is that Physician's Formula's shades are kind of limited and don't match me perfectly - it's not yellow enough for my Asian skintone. The included brush is kind of useless as well.
Rating:
8/10 - I really love the flawless finish.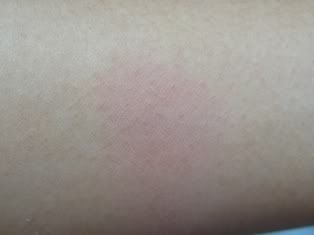 Blush:
The blush I got in the shade Rosy Glow. It has a matte finish and is extremely pigmented - the swatch above is just one swipe. It gives a natural rosy flush when stippled on with my MAC 187 duo-fibre brush. It might be too pigmented when used with a regular blush brush though. I really really love this - the matte finish is totally work-appropriate and it comes in 4 other colours which I'm really interested in trying - I think I might try to get them online. It's kind of expensive for a drugstore brand (USD10.95) but it's worth every penny because the powder is so fine and smooth and pigmented!
Rating:
10/10!
--------
I've officially been at my job for 2 weeks now - we're still doing training but my schedule has engagements packed till next May. ;_; Some other groups have easier schedules but apparently my group is pretty busy. And my company laptop is always giving me problems, plus at work, lots of websites are banned, like Facebook, MSN Messenger, Ebuddy and Livejournal. Oh well. I look forward to lunch every day though - it's fun exploring all the food places in the area.
Till next time - I need to go to bed now because I'm always late and someone important's gonna be there tomorrow and I need to be uber early. :(