Hi all, long time no see again. Work is killing me. I had my company dinner and dance on Friday though so I had a chance to paint my face and here is the result -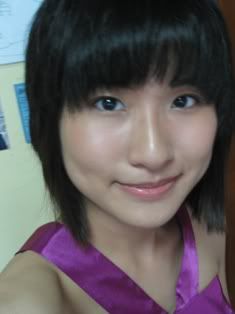 Argh I forgot to do a macro of the eye. You can't see anything in the photo here. I know my friend will say that's because I didn't put enough eye make-up but I don't enjoy looking like a bloody wayang (opera) troupe member. For my own reference-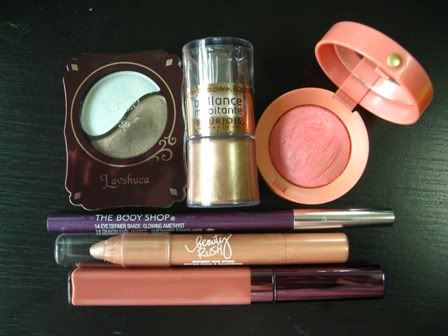 Lower inner rims - VS chubby eyestick in glampagne
Lower outer rims + tightline upper lashline - Body Shop Eye Definer in Glowing Amethyst
All-over wash - Bourjois Shimmering Shine Liquid Eyeshadow in 32 Brun Magnetique
Eyeshadow - Brown shade in Lavshuca Dual Prism Eyes GN2
Blush - Bourjois blush in Rose Frisson
Lipgloss - Maybelline Watershine Collagen Gloss in BP21
Let me do a quick review of the 2 new items in the FOTD which I am totally loving at the moment -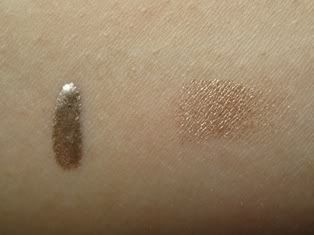 Bourjois Shimmering Shine Liquid Eyeshadow
This is seriously good stuff! It's basically an eye gloss which you can use as an ultrapigmented shadow or a sheer overall wash of metallic colour. Brun Magnetique is that mushroomy-mink shade that everyone should have. I use it every day at work now as a sheer wash - it's so easy, just dab and spread and it dries so quickly, no fuss at all! It doesn't migrate or crease, though colour does fade a little without a base. But with primer/UDPP, it lasts forever!
Rating:
10/10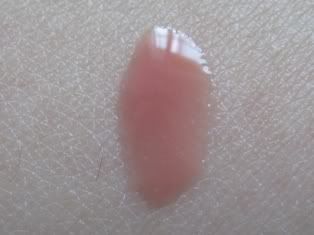 Maybelline Watershine Collagen Gloss
This is seriously good stuff too! It's not ultra-glossy, but it has that watery look that totally blurs liplines and it is the only lipgloss I have tried which I can honestly say is not sticky at all. It's even better than Sally Hansen's Lip Inflation (which is awesome). This colour (BP21) is one of the more pigmented and non-shimmery ones while other colours contain some shimmer and are more sheer. I would compare the look of this gloss to Covermark's lipgloss which is so much more expensive.
Rating:
10/10
--------
I hope to blog again soon - there's a public holiday this Wednesday so I think I might have time. Till then!
P.S. Food at Marina Bay Sand's Chinese banquets suck. The sharks' fin soup is a major waste of sharks' fin and the appetizers came out cold (and it wasn't a cold platter). If anyone is getting married soon, please avoid throwing your wedding dinner at MBS because in my opinion, it is overhyped. :P