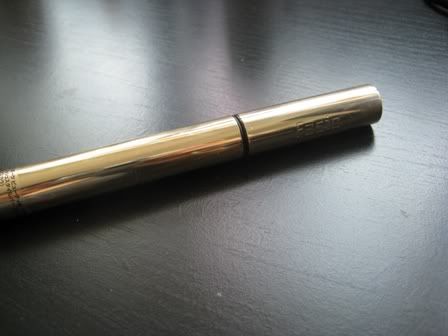 Recently I've been using Fasio Lash Style Perfector in Deep Brown. It comes in a sleek gold tube, really elegant! The most unique thing about it is its lack of bristles: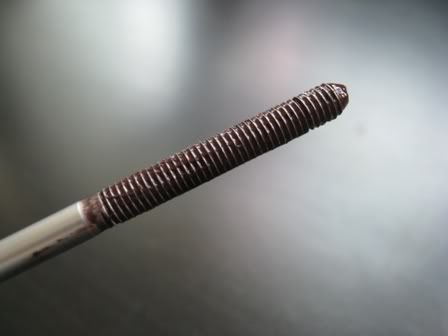 Instead it has coils! This makes the application technique very different from usual mascaras. For regular mascaras, I'd usually wiggle the brush in a zig zag motion through my lashes from base to tip to separate and add volume evenly throughout. But for this mascara, there are no bristles, so wiggling the brush doesn't work and instead makes my lashes clumpy. The best way to apply this mascara is very simple - just brush it up straight. It tends to clump with 2 coats or more though, so I use my Tweezerman brow brush to brush out the clumps.
Here's how it looks after just one coat (I like one-coaters) - curled and with just enough volume for everyday. It stays on very very well, no smudging at all (just a wee bit after 12 hours) and holds a curl all day long! I love this.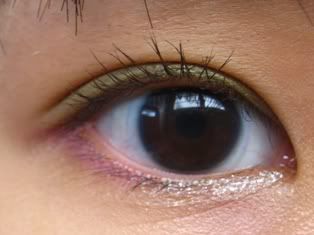 The only quibble I have is the tendency for clumpiness - I can't use this without a lash comb/brush. Then again, I hate clumps so much that every time I use mascara, I need to use a lash comb/brush so this mascara doesn't add much fuss to my routine.
Rating: 9/10
--------
I went for a session at my regular Chinese doctor this morning - it's like a chiropractic/massage/acupuncture place. I got this recurring injury and slumping over my laptop at work doesn't help much. I try to go once a month but this was my first visit in 2 months cos I was busy. Got myself a chiropractic alignment, massage and acupuncture. God, today's acupuncture session really hurt!!!!!!! Usually the doctor just pokes in, out, like ant bites, but today, he really drilled in the needles deep into my so very sore muscles. After that I had lunch, did some shopping and went home for a deep snooze till dinnertime. Acupuncture really gets my blood circulation going. Today's was so painful that I cried! But I will go back again after my busy period ends in May - I'll have some super sore muscles then, I'm sure.
Christmas week, I'm so happy! I still haven't sent my Xmas cards cos I've been too busy to get stamps (oops). I'm looking forward to partying!!!!!!!!!! Partayyyyy!!!!!
Happy holidays everyone!