Happy New Year everyone! Apologies for lack of updates, life's been hectic. I'm gonna start the year off with a rave review for these 2 hyaluronic acid serums I bought in Taiwan last year and only got around to finishing recently.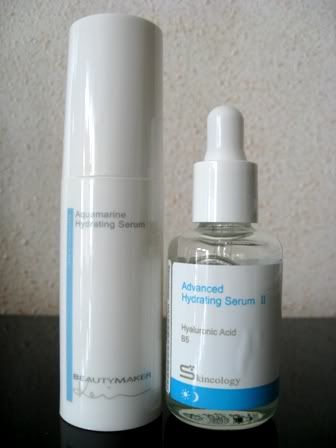 Kevin Beautymaker Aquamarine Serum II and Bio Beauty Skincology Advanced Hydrating Serum.
Hyaluronic acid, I believe, is the best kind of moisturizer for people with oily, acne-prone or reactive skin that is prone to breakouts. A lot of people who have problems with oiliness actually have dehydrated skin as well. The oily-but-dehydrated skin thing, what an irony. :( But hyaluronic acid is good because it is light, but it's a great humectant as well, attracting more than a thousand times its own weight in water. Read
this
for more information! I like how hyaluronic acid leaves my skin plump - it's because it retains water in the skin and brings about plumpness of the skin due to retention of water.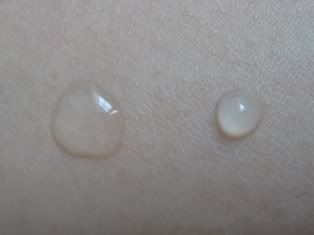 L-R: Bio Beauty Skincology Advanced Hydrating Serum II, Beautymaker Aquamarine Hydrating Serum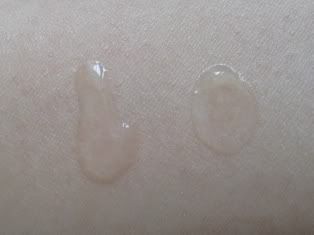 Same, to show the texture.
Bio Beauty Skincology Advanced Hydrating Serum II
This is a lighter, more watery serum than the Beautymaker one. It plumps up my skin real good! It's very fluid and dries quickly, but once it dries it can give a tight feeling, and I find it can't be used on its own. Instead, I have to layer another lightweight moisturizer over it. While the serum's not too substantial by itself, I can definitely tell the difference when I use it - it really helps prevent my skin from drying out and extends the moisturizing capability of whatever I layer on top of it. I use this up very quickly - 30ml is gone in a month!
Plus - it's very cheap, I think about SGD$17 a bottle or around USD11 for 30 ml. I like the clean glass bottle with the dropper, very hygienic and practical. But the only way you can get it is through the
Payeasy
website which I don't think delivers outside of Taiwan. Thank God I have a Taiwanese friend, I'm thinking of getting her to CP me another 5 more bottles (there's a discount if you buy 5).
Ingredients: Purified water, sodium hyaluronate, panthenol, sodium PCA, natto extract, cactus extract, butylene glycol, dmdm hydantoin, iodopropynyl butylcarbamate.
Rating: 10/10Kevin Beautymaker Aquamarine Hydrating Serum
This is a thicker, slightly sticky serum. It smells really good, like rosewater. It may be a serum, but I find it hydrating enough to be used on its own. In fact, my favourite way to use these 2 serums is to layer the Aquamarine Serum over the Advanced Hydrating Serum. This method really locks in the moisture the whole day. The Aquamarine Serum is slightly more expensive - about USD14 for 30ml if I remember correctly. I used this up in about 1.5 months.
Ingredients: Carbomer, deep sea water, hyaluronic acid, cucumber extract, butylene glycol, glycerin, ethyl alcohol, gamma-polyglutamic acid, triethanolamine, glycine, cyclomethicone, serine, auqa and chondrus crispus, hydrolyzed placental protein, methyl paraben, disodium EDTA, hydroxyproline, ethylisothiazolinone, mica & titanium dioxide, hydrolyzed ulva lactuca extract, algae extract, pelvetia canaliculata extract, codium tomentosum extract & propylene glycol, fragrance, acetyl hexapeptide-3.
Rating: 10/10
Another thing to note - I have been looking at other hyaluronic acid skincare brands like Aquajuju,Hada Labo and Shiseido Aqualabel (because my Taiwanese friend is kind of busy and I won't be getting my back-ups anytime soon and I need a replacement), and looking at the ingredients lists, I realised that for all of them, the hyaluronic acid (or sodium hyaluronate) component comes much later in the ingredients list. On the other hand, you can see from the ingredients lists above that for both the Bio Beauty and Beautymaker serums, hyaluronic acid (or sodium hyaluronate) is the first active ingredient. I'm not sure if this makes a difference, but I'll be trying the AquaJuju, Hada Labo and Aqualabel ones soon to see if I can find a suitable replacement.
However, if I had a choice, I think these 2 serums are the best because they're so pocket-friendly! (AquaJuju, Hada Labo and Aqualabel are about 50% more expensive I think.) I especially like the Bio Beauty Advanced Hydrating Serum II because the ingredients list is very simple and doesn't contain weird chemicals that may irritate skin.
If you haven't tried hyaluronic acid skincare yet, do give it a try! This miracle ingredient has really done wonders for my skin. However, just one thing to take note - hyaluronic acid works best in humid climates (like Singapore!) because it draws moisture from the air and retains it on your skin. If you live in a dry climate (like Australia), hyaluronic acid might actually leech moisture from your skin instead (because there is no moisture in the air). In that case, you can try taking hyaluronic acid supplements. Fancl makes a good one.
Have a good 2011 everyone!