Hi all! Happy Lunar New Year! Been away for a long time because I've been swamped in work. Usually I reach home after 2am in the morning and I had to work weekends too, I was so tired! I still don't get to go home for dinner these days but anything is better than still being in the client's office at 2am in the morning.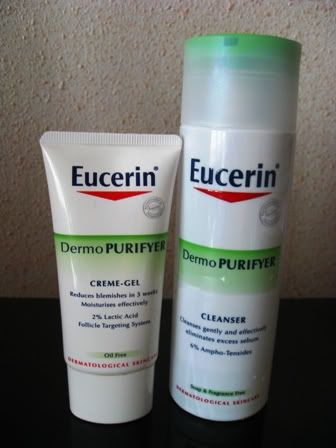 Anyway, I discovered this brand, Eucerin, in the drugstore. It's slightly more expensive than your average drugstore brand (these cost around SGD$20+ compared to SGD$10+ for brands like Clean&Clear) but it's pretty worth it! I've been having troubled skin because of the late nights and these help keep my skin from breaking out.
Eucerin DermoPurifyer Cleanser
It's a clear gel cleanser, foams quite easily and washes off cleanly without residue. It contains salicylic acid to unclog pores and it's one of the most gentle cleansers I've used! I'd say even people with dry skin can try this. Other cleansers which contain salicylic acid made my skin dry in the long run, but this cleanser doesn't. While it's gentle at cleansing, it cleanses thoroughly without stripping skin of moisture.
Rating:
10/10 (Yes I'd repurchase forever if only I weren't so fickle-minded)
Eucerin DermoPurifyer Creme-Gel
This is a moisturizer for blemished skin, it has a strange texture - creme-gel is a nice way to describe it. It is thick like a cream but not at all greasy, hence creme-gel. Here's a swatch to let you see the texture -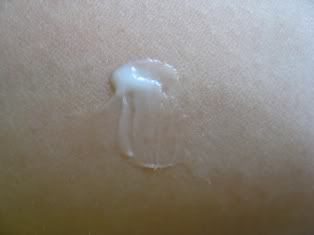 The instructions say to massage it into face. Usually when I spread stuff on my face, I spread downwards so as not to clog my pores, but for this one, I really do massage it into my pores so that the lactic acid can get into my pores to exfoliate and get the debris out.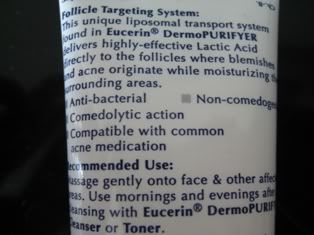 I find this moisturizer has good oil control. Also, the really good thing about this moisturizer is that it really does moisturize - it's one of the rare moisturizers made for blemish-prone, oily skin that doesn't dry my skin out. However, the heavy texture can get a little annoying sometimes - it can make my skin feel sticky after a long day, and when I apply powder on my face using a fluffy brush, I feel like it's gunking up my brush with the stickiness. Still, while it feels heavy, it leaves a matte texture which I like because my skin tends to get oily. Also, it doesn't clog my pores. And I really like the compact tube it comes in - slightly flat and reminds me of some BB cream tubes!
Rating:
9/10
Hopefully I'll get to blog soon this weekend. See you (: