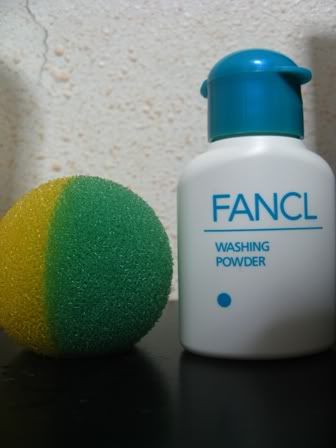 I got a sample of Fancl's facial washing powder as a gift-with-purchase and just finished using it. The little sponge ball helps create foam and is an absolute necessity; I could never get the powder to foam up well enough without it, and without the foam, it doesn't cleanse properly.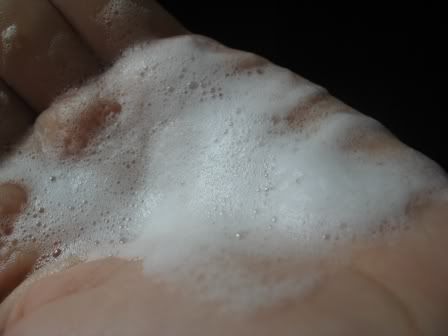 It takes just 1 teaspoonful of powder, some water and the help of the foam ball to create dense fluffy foam.
Apparently the Facial Washing Powder comes with a 'perfect cleansing sensor' to remove dirt without leaving your skin dry. I do feel it cleanses thoroughly without stripping skin of moisture but for evening cleansing, it really needs to be used with a washcloth, muslin cloth or the Fancl facial washing puff to provide some physical exfoliation. I find it sufficient on its own in the mornings, but if you're always in a rush in the mornings, the additional few minutes it takes to create foam really wastes quite a bit of time.
Fancl Facial Washing Powder retails at $26 for a 50g bottle and $48.50 for 2 bottles. Slightly pricey for me but a full-size bottle lasts me almost 2 months. I might consider re-purchasing if not for all my other cleansers waiting to be used. :P A couple of years ago, I tried out the Facial Washing Powder (Light) which is supposed to be used for oily skin. I think the original version (the one I'm reviewing right now) is better though.
Rating: 8/10