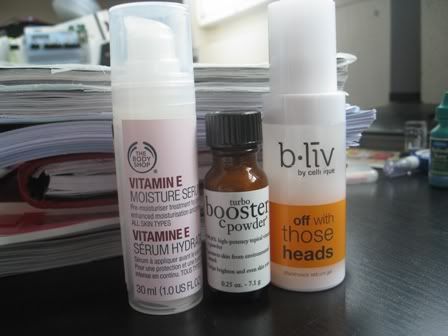 I've been sticking to this morning routine for about 2 months (and my Vit E Serum is almost gone) so I decided to do a post on it cos I'm quite happy with the condition of my skin right now. -prays skin remains obedient- I like to take macro shots of my skin to keep track of whether the condition of my skin is improving.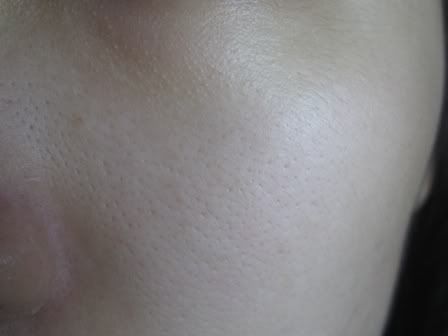 My skin right now is generally less clogged up and more hydrated. In the past, I had really oily skin but overexfoliated and ended up with dry, patchy cheeks but those dry patches are now gone. Hurray!
I bought lots of beauty and skincare books from China, one by Saeki Chizu, that famous Japanese woman with good skin, and I've been reading them religiously even though they're in Chinese. (So my Chinese is improving by leaps and bounds.) She advocates first softening skin with lots of toner to improve subsequent absorption of serums/emulsions/creams. It really works! My to-go toner (which I've repurchased countless times) is Simple's toner (in a green bottle).
Another important note is that we shouldn't 'overfeed' our skin with rich creams/treatments - instead, we should hydrate it fully with toner/lotion and use spot treatments and other creams sparingly. An example she gave was that for a plant to grow well, you need to water it frequently and just add fertilizer sparingly. If you don't water it frequently enough, no matter how much fertilizer you apply, your plant won't flourish. I used to be crazy about growing houseplants and what she said is really true. So I really do believe that we should focus on meeting our skin's basic needs (i.e. adequately hydrating it), then do spot treatment sparingly for zits, pigmentation, wrinkles etc.
I've been using this routine for about 2 months now - Simple toner, Simple eye cream, B.Liv Off With Those Heads gel and Body Shop Vit E Moisture Serum mixed with Philosophy Turbo Booster C Powder.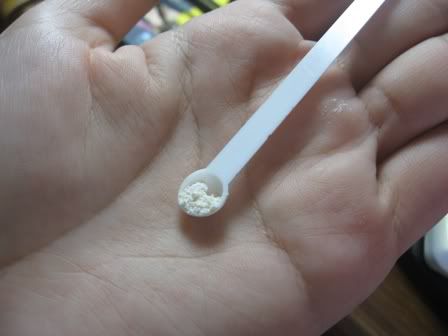 The Philosophy Turbo Booster C Powder comes in an amber glass bottle (to prevent Vit C from breaking down). They claim that powdered Vit C is more stable so your Vit C remains fresh every time you mix it in. It comes with a tiny scoop - the first few times you might experience a slight stinging sensation so just use about a quarter spoonful. I've since increased to half a spoonful per application.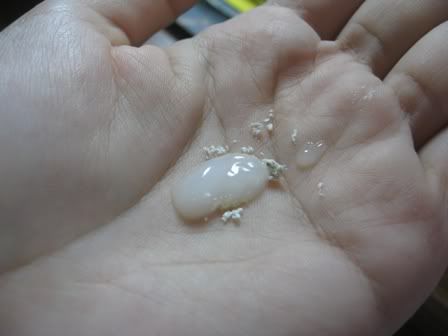 I add one pump of Body Shop's Vitamin E Moisture Serum. One pump is enough for the whole face - sometimes I'll apply a little more serum afterwards (without mixing in the Vit C powder) to my cheeks which are dryer.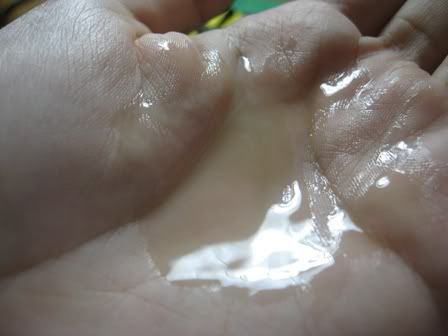 This is what it looks like after mixing.
I'll just do a short review of the products used -
B.Liv Off With Those Heads blackhead sebum gel
This one's quite famous! Lots of bloggers have reviewed it already so I won't really go into details. It's a transparent gel with minty feel on application and contains tea tree oil. Yet it's not drying at all (I believe it has glycerin for moisture) and I apply this to prevent clogging in general. Don't expect overnight results, but gradually you'll notice your skin improving loads as it prevents clogging and keeps skin clear. It doesn't remove blackheads but prevents them from occurring in the first place. It also softens your skin so it's easier to extract clogs (if you're into that kind of thing). However, it is insanely expensive - 30ml for about SGD$70. One bottle lasts me about 1.5 months at most when applied sparingly all over the face.
Rating:
10/10
The Body Shop Vitamin E Moisture Serum
Really nice serum, quite adequately moisturizing enough to be used on its own (for oily skin) but should be paired with the Vitamin E Moisture Cream for dry-skinned people. (I've used the Vit E Moisture Cream before but can't seem to find a review for it, it's really nice and absorbs well.) All the products in the Vit E range have the same comforting Vit E scent which I can't really describe, but it's a familiar kind of comforting, nostalgic scent. I also like that this serum comes in a transparent airless pump bottle so I can get to the very last bit of product and also see how much product is left. The 30ml bottle lasts me about 2 months with twice daily application. I love the plastic bottle with cap too, so convenient for travel and for bringing along when I go to the pool etc.
I get away with using this serum without moisturizer, mainly because I layer it over another serum (the B.Liv gel) which also moisturizes slightly. If you have oily skin, you can also layer it over a hyaluronic serum. I like to layer serums as they are lighter than regular moisturizers/emulsions yet provide ample hydration. I find layering serums works really well for my oily-yet-dry-underneath skin.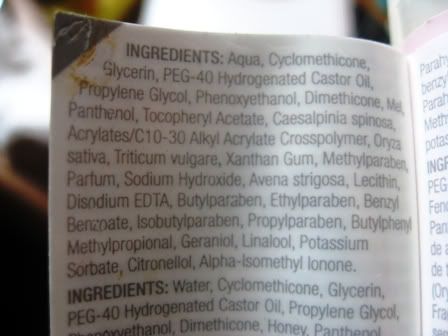 Ingredients list just for info.
Rating
: 10/10
Philosophy Turbo C Booster Powder
This is one expensive purchase! I bought it in the US for USD35. It can get quite troublesome mixing a fresh batch of serum every morning but after incorporating it in my routine, I can really notice my skin getting softer and brighter. You do have to apply sunscreen after you've used this; I think Vit C products degrade when exposed to light and I'm not sure if it increases photosensitivity, but just layer on the sunscreen! :P Would I repurchase this? It's slightly too pricey for me (I know the B.Liv gel is pricier but it is something I can't live without; I think maybe I could live without this as there are quite a lot of other products in the market with Vit C and antioxidants that I could try). I would consider repurchasing but first I'd like to test out other Vit C products in the market.
Rating
: 9/10
Today I was rummaging through my mom's stuff (because I've gifted her lotions, serums, masks, all kinds of cosmetics and somehow she can't remember where she put them and wants to buy more -_-U) and discovered some little vintage treasures!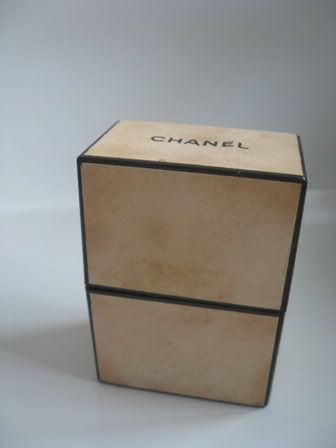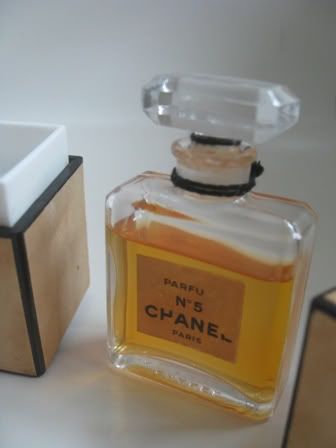 A baby bottle of Chanel No. 5!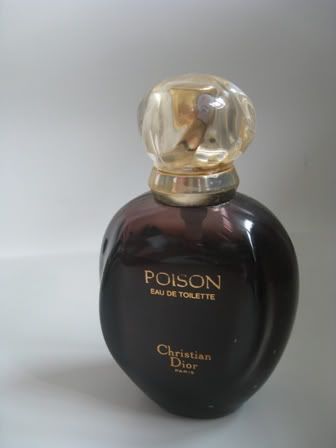 Dior Poison!
It kind of shocked me because these are slightly more assertive fragrances and my mom is not an alpha female type. They were probably gifts from others. She also uses other fragrances like Clinique Happy (which was a gift from my sister) that fits better with her image in my mind. It is times like this that I think my mum is kind of cool. HAHA.
P.S. I just received news that
Skin MD Natural
is having 15% off this weekend! Just enter code MEMORIAL during checkout. I've reviewed it
here
but I won't be using the code cos I can find it at a Guardian pharmacy just near my place. (: