Singapore's elections are over! Shan't say anything, elections always make certain people so riled up. :P My first time voting though, pretty exciting! (Apologies if I sound bimbotic, but do take note that appearing bimbotic is different from actually being a bimbo.) :P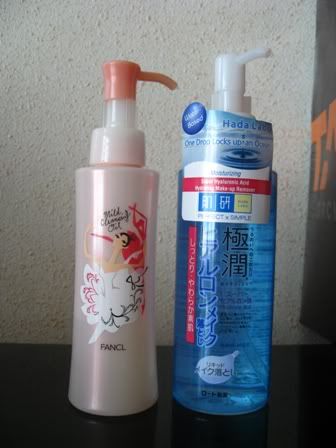 On to the review! I picked up the Hada Labo makeup remover on a whim at the drugstore (it was on sale for SGD$10; usual price about SGD$18). I liked it so much, I have been neglecting my Fancl MCO! (Which is a bad thing as Fancl MCO has to be used up within 3 months after opening. Oops.)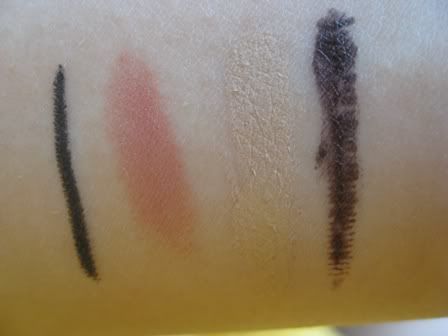 Shall we do a comparison of their cleansing powers? From left to right, we have Urban Decay eyeliner, MAC matte lipstick (which is a more lasting formula than say, lustre), BB cream (usually thick and difficult to remove) and lastly, Fasio mascara (which is famed for being ridiculously difficult to remove even with waterproof eye makeup removers). I did allow the makeup to dry and set before attempting to remove it.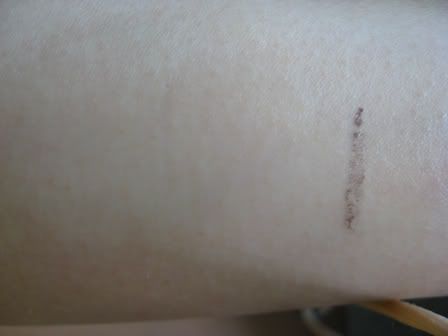 This is after Fancl Mild Cleansing Oil. The only thing left is the infamously indelible Fasio mascara. After a second try, the mascara can be removed cleanly.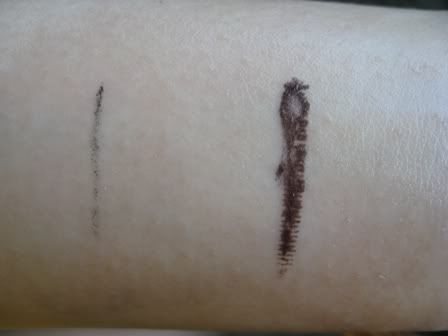 This is after Hada Labo Gokujyun Hydrating Make-up Remover. There are traces of eyeliner left and the mascara is stubbornly refused to budge. However, the thick BB cream and lippie were removed very easily on the first try.
Thoughts on Fancl MCO:
It's a cleansing oil and really really awesome at removing every single trace of make-up at one go, even waterproof. The Fasio mascara is the exception (like seriously, it is super difficult to remove), but can be easily removed with a second try. Usually I use 2 pumps of Fancl MCO. Fancl MCO costs
SGD$33 for 120ml
, kinda pricey but it's Fancl and I love how it seems to remove oil clogs over time too. However, it seems a little heavy to be using every day. Also, if it gets into your eyes, it'll make your eyesight a little blurry for a moment. (I think the oil creates a film over your eyes until you blink it away, but this also occurs with many other cleansing oils like DHC Deep Cleansing Oil.) Lastly, it has to be used up within 120 days from the date of opening.
Thoughts on Hada Labo Makeup Remover:
It looks like a cleansing oil but it is not! It is a clear, slightly viscous (similar viscosity to cleansing oils) gel-type makeup remover, mineral oil free, fragrance free, ideal for sensitive skin (but not sensitive eyes; it stings!). It removes everyday makeup, foundation and sunscreen effortlessly, and when I wash it off with water, I can feel my skin becoming really smooth because of the hyaluronic acid. Like Fancl MCO, 2 pumps is sufficient, but Hada Labo is way more affordable at
SGD$17.90 for 200ml
. You'll need a separate makeup remover for waterproof eye makeup, but I don't wear eye makeup every day, so that's fine with me. I think it's excellent for everyday use.
Rating for Fancl MCO:
10/10
Rating for Hada Labo:
9/10
Both winners in my opinion!
--------
I'll be going to Hong Kong tomorrow! Will be there for a week, very excited about the shopping! Off to pack now. (: