Recently for day I've been using Kevin Beautymaker Skin Repair Awakening Gel. Just one of the many items in my stash I've resolved to use up before I go to Taiwan again next year to stock up!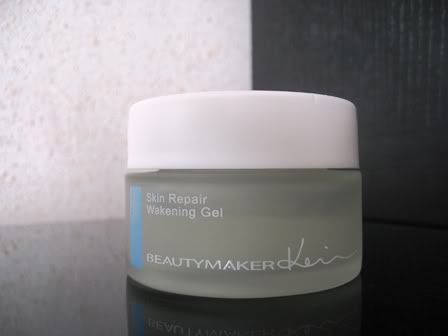 It comes in a frosted glass jar, quite classy-looking, NT330 for 50g which is about S$16 or US$12 thereabouts. The description is pretty cute - "It has a tender, friendly texture. Only a pearl-size particle is enough to apply to your entire face." I think it does have a 'tender' texture - an easily absorbed gel-serum, but because it's quite light, I think I need to apply more - like, probably a really huge and expensive freshwater pearl-sized amount? Lol.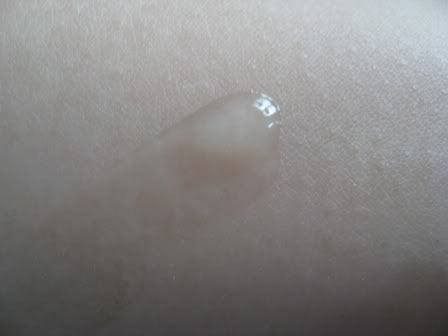 The description suggests 2 ways of using - as part of your regular morning routine as a massage gel, or as a sleeping pck at night -
Use before make-up:
Natural rose wter can calm the skin down; combining natural yeast extract with facial massage can remove the old corneum and brighten your skin.

Use before sleep:
Kinds of algae and the three-dimensional amino acid moisturizing membrane can retain all active cosmetic ingredients and accelerate the speed of absorption; like wearing a non-sticky mask while sleeping.
Ingredients:
Purified water, ethyl alcohol, cabbage rose water, butylene glycol, glycerin, pineapple extract, gama-polyglutamic acid, glycine, methylparaben, propylene glycol and yeast extract, codium tomentosum extract and propylene glycol, tocopheryl acetate, methylisothiazolinone, serine, hydrolyzed ulva lactuca extract, auqa and chrondus crispus, fragrance, squalane.
As I'm using Vitacreme B12 at night, I ony use this in the morning. I don't use it for facial massage though, because facial massages always go upwards and I don't like applying stuff other than toner upwards cos I'm afraid it'll clog my pores. So basically I can only comment on the moisturizing aspect.
Skin Repair Awakening Gel smells really really good, like rose water! Cos of the cabbage rose water. It also contains Vitamin E and hydrating stuff like glycerin and squalane. Also, yeast extract is a good humectant and apparently helps accelerate cell turnover. (Googled!) I like that this moisturizer is a light watery gel that doesn't make my skin more oily, just that it's kind of sticky. It absorbs quite well and the scent is very relaxing. I do find my skin clarity improved after using it, so it does "awaken" my skin somewhat. This gel should suit oily skin well but those with drier skin would do well to use another moisturizing serum underneath. That's cos I find if I'm in a room with strong air-conditioning for about 12+ hours, my skin can get slightly dry at the end of the day. For regular 10 hour days in places that aren't too cold and dry, it's quite sufficient. The only other thing I don't really like (other than the stickiness) is the fact that it comes in a jar - not too hygienic!
Rating:
9/10 (I'd prefer
Kevin Beautymaker Aquamarine Hydrating Serum
! It's more moisturizing and smells just as good.)
--------
In other news, The Body Shop's having a sale on organic cotton pads - each roll has 100 dual-sided pieces and 2 rolls are going for S$5.90. Pretty good deal I'd say! I put them in my Daiso glittery pink box, fits one roll perfectly. Love it. The cotton pads are very nice and thick and the textured side can be used for exfoliation. I know some people say toner is useless, but I find it very important because when you use cotton to apply it upwards, you're actually exfoliating your skin gently and hydrating your skin so that it's better primed for absorption of skincare. (From Saeki Chizu, my skincare guru. Lol.)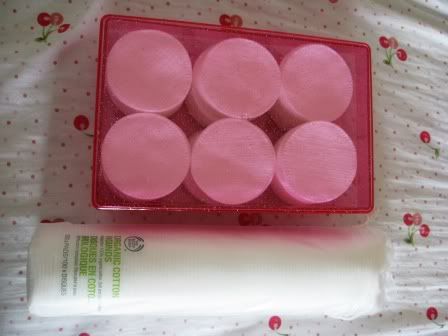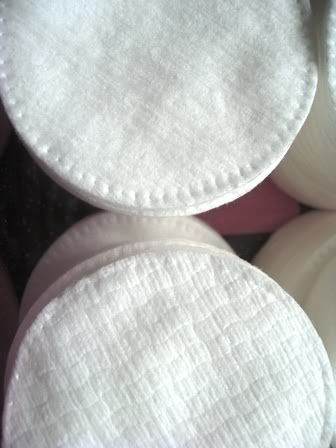 Recently I've been crazy about organizing. I went to Daiso to get my super cute glittery pink acrylic box series - they're so versatile. I hope they restock! I didn't manage to get enough. :( This is but about 50% of my stash; I didn't take photos of the other drawers which are still kind of messy. >_< I've already thrown away quite a bit of stuff. Must get rid of stuff so that I can go on more vacations and buy more stuff! :D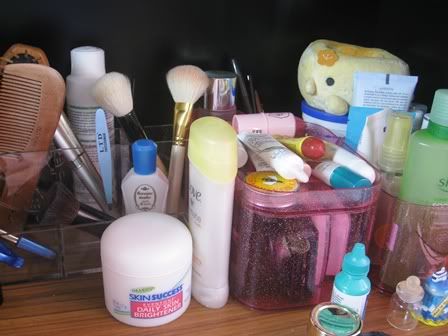 My current vanity area. Love the pink beaded mirror from IKEA. And I love the owl, it's an ocarina from Australia. I got the brush holders from Muji (so expensive; you can probably find good acrylic alternatives from Daiso) and all the glittery pink ones from Daiso. Love. Them. To. Bits.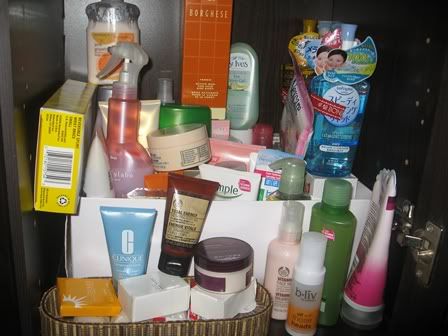 Shelf for skincare/hair stuff/shower stuff. I have enough make-up removers for another year. Cleansers too I think. I have a list of them written down and filed and cancel them off neatly when I finish a bottle. I need to do stuff like that or I'd go crazy.
Some unopened boxes of masks, and discarded packaging for products I haven't gotten around to reviewing. Also, some empty used-up bottles for products which were bought overseas or are difficult to find, so that when I search for them in the shops I have something to refer to.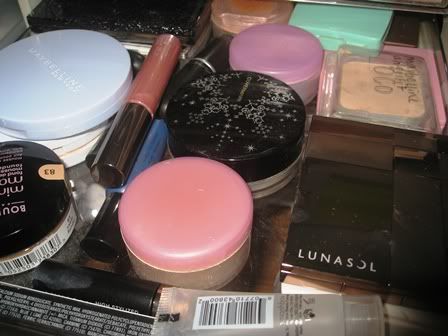 Foundation, loose powder, blush - stuff I don't use often.
Cheek and eye stuff.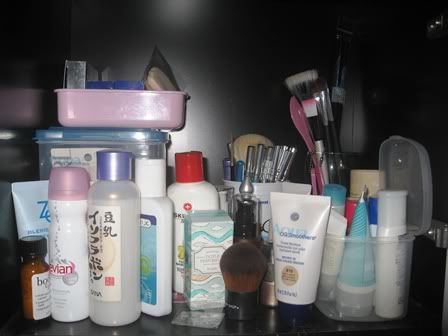 Shelf of unused brushes, SPF sunscreen, my whole stash of eyeliners, BB creams (in box, hidden), stashes of foundation refills and boxes of eyedrops.
Not too organized yet but will be trying to clear! Hope to take a comparison photo in half a year's time to see how much I've used up. I'm definitely not adding to my stash right now, just trying to clear so that I can purchase more when I go on holiday in the future. (: