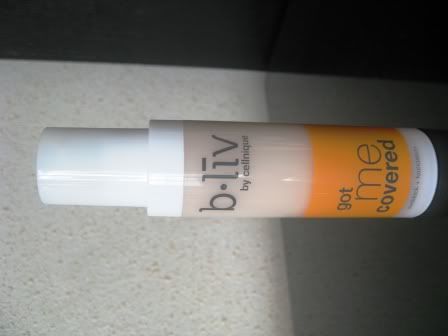 I've been using this tinted sunblock from B.Liv for 2 months and I really love it! I've been using
tinted sunscreens
since forever and I think this is a keeper. The
B.Liv website
describes it as a BB cream. It's a sunblock, SPF35 PA+++ which seems less than my regular SPF50 sunblocks; I suppose if I were on vacation at a sunny place I'd choose a sunblock with higher protection, but SPF35 is sufficient for me for daily use.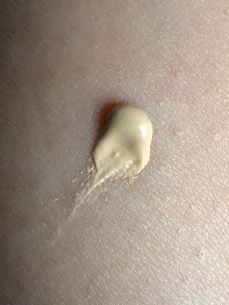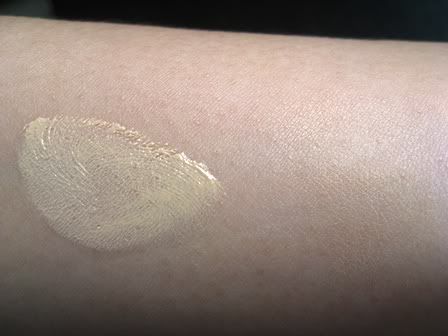 You can see it blended out a little on the left, and totally blended in on the right. It has a really creamy and moisturizing texture which is refreshing compared to my other Japanese sunscreen lotions with the shaker balls inside, which can be drying. Surprisingly, while it's creamy, it controls oil really well and gives me really nice looking semi-matte skin. Plus, it's not chalky at all and I love the yellow undertone which is really suitable for Asian skin. I've also gotten compliments that my skin is more radiant when I have this on. -flips hair- LOL. Love it.
Plus, while I've been using it for 2 months, I've barely gone through half the bottle! I'm not too sure about the regular retail price cos I got this in a value set, but I think it costs about SGD45/USD35 for a 45ml bottle. It might seem pricey but a bottle can last for a really long time! And I love the light coverage it gives me without making my face scary white.
Ingredients: Purified Water (Aqua), Propylene Glycol, Cyclopentasiloxane, Iron Oxide, Cyclohexasiloxane, Ethylhexyl Methoxycinnamate, Hydrogenated Polydecene, Dimethicone/Vinyl Dimethicone Crosspolymer, Cyclomethicone, Titanium Dioxide, Silica, Dimethicone Crosspolymer, PEG-10 Dimethicone, Zinc Oxide, Roman Chamomile (Anthemis nobilis) Flower Extract, Disteardimonium Hectorite, Talc, Salicylic Acid (BHA), Diazolidinyl Urea, Sodium Citrate, Methicone, Methylparaben, Mica, Dimethicone, Vitamin C (Ascorbyl Tetraisopalmitate), Zinc Stearate, Propylparaben.
From the ingredients, I think this is mainly a physical sunblock which is good for sensitive skin, as opposed to chemical sunscreen which might cause irritations for some. Plus it contains vitamin C! And I guess the -cones are what make it give the illusion of smooth skin. It contains salicylic acid too, making it good for oily, acne-prone skin. I really do recommend this sunblock - it's a really great formulation, creamy and moisturizing while oil-controlling and the tinted colour works really well to even out skintone. While it's creamy, it feels light on my skin, not suffocating at all! I'm in love and have already purchased -cough- two back-ups though I'm barely halfway through my current bottle. Plus, did I mention, it smells great? It has a light fragrance that smells expensive. Can't really describe it, but expensive and luxurious is what it evokes for me. (The packaging isn't very luxurious though, but hey, functionality is good.)
Rating
: 10/10.
Ultra-holy grail stuff.
Short entry this week; gotta rush to do some shopping and catch the last Harry Potter movie. Toodles!