I bought a whole load of stuff from the US and haven't gotten around to reviewing all of them. I bought like 5 lipbalms? 3 from Carmex and 2 from Burt's Bees... I forgot where I put the photo of my Burt's Bees lipbalms so I guess I'll do a review next week.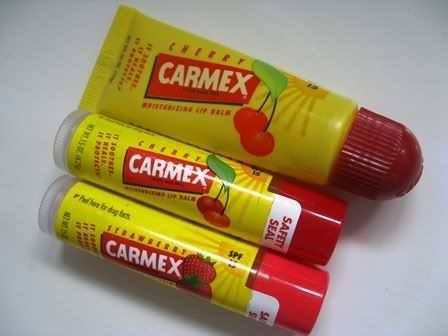 I read this other beauty blogger
Kimoko
really likes Carmex so I bought these to try them out. Carmex comes in a jar too (it's the original form), followed by squeeze tubes then stick form.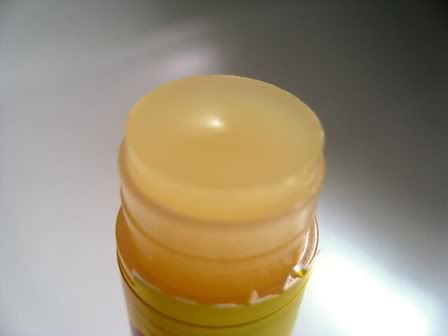 I bought the cherry flavour in a squeeze tube, and cherry and strawberry in stick form. Between the squeeze tube and the sticks, I'd choose the lipbalm sticks because they're more convenient and I kind of like the texture better. One thing about the lipbalm sticks - I don't know if it's because Singapore is really humid, but the Carmex sticks have the most amazingly thick melting texture as compared to other solid lipbalm sticks. (However this may just be due to the weather; I remember bringing a pot of beeswax lipbalm to the US in spring and to my amazement it solidified in the spring weather; so different from its regular texture in Singapore which was creamy soft)
Both the squeeze tubes and the sticks have the same minty feel - it's a little too strong for my taste though. And yes I really really detest the taste of Carmex - minty and artificial cherry/strawberry tasting, very unnatural and chemically artificial, imho. The ingredients: menthol, camphor, phenol, lanolin, cocoa butter, salicylic acid, vitamin E, shea butter, and petroleum jelly. Salicylic acid? To exfoliate your lips? I don't know, man. I do find it quite moisturizing and I really like that this is one of the few lipbalms that contain SPF15, but the taste! Yuck.
In a nutshell - I'd choose the stick over the tube, and strawberry over cherry any time.
I'd choose Burt's Bees over Carmex though, because Burt's Bees is natural while Carmex makes me feel like I'm ingesting yucky chemically-flavoured stuff. Also, Burt's Bees is more moisturizing and heals my lips faster when they're dry and cracked from drinking too much green tea in a cold air-conditioned office.
Rating:
8/10
Some photos to share: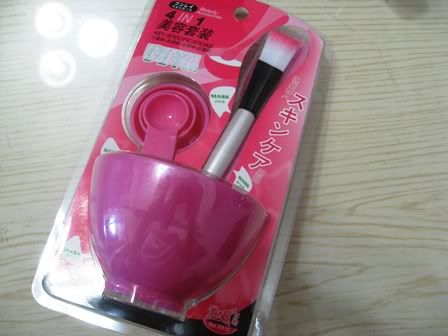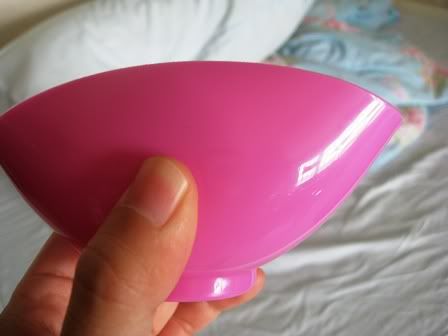 A mask set with a bowl, brush and measuring spoons for mixing your own masks - purchased at a small shop in ShenZhen, China. They sell this at Bonjour and Sasa as well. After opening it I realised the bowl was rubbery and smells like rubber too. Yucks. You know, the kind that gets sticky in the heat. Kinda regret it.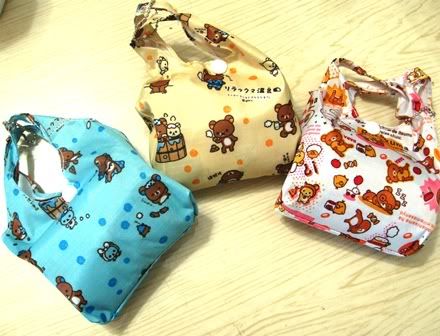 Rilakuma envirobags!
Cute Hello Kitty lipbalm!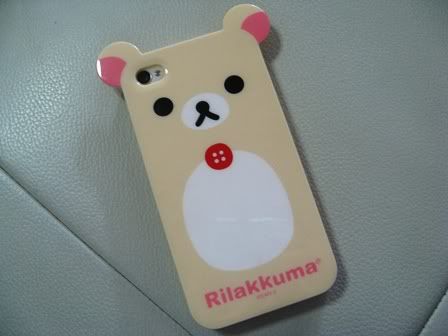 My new white iphone! And Rilakuma case (ok I don't know what the white one is called, I like Rilakuma better but the white one matches my white iphone better, so...)
My current collection of Rilakuma plushies.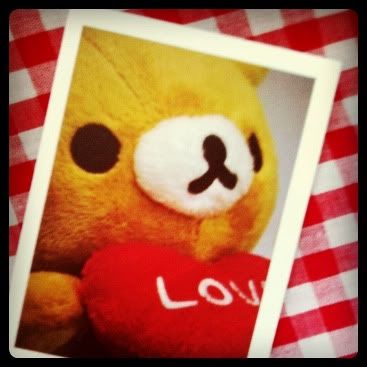 A photocard my interns gave me... sweet!
Have a great week ahead everyone!!! I'm praying my breakout subsides... Busy-ness ahead...