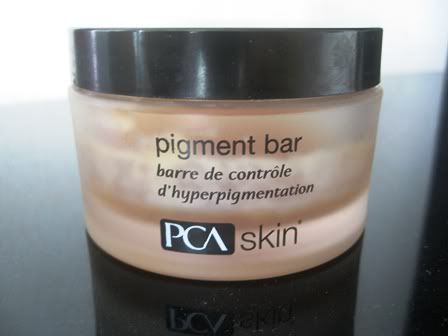 PCA Skin pHaze 13 Pigment Bar
I bought the PCA Skin Pigment Bar about 3 years ago, used it on-and-off within the last 2 years and have been using it very conscientiously within the last 6 months. I don't think many people have heard of this brand because in Singapore it's only sold through dermatologists or skin clinics. I bought it online at Drugstore.com for US$30 for about 90g which is pricier than what I usually spend on a cleanser, but after trying it, I think it's money well spent because I think a jar can last me a year (or more!) when used once in the evening daily.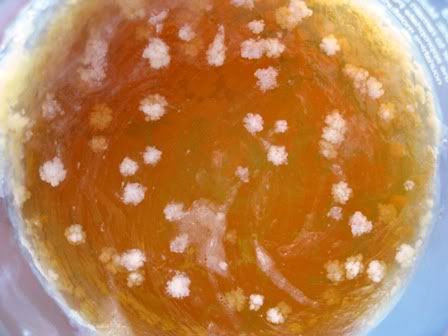 Here's what it looks like - an amber-coloured bar soap with little white bubbles in it that look quite creepy.
Ingredients: Water, Saponins, Glycerin, Vegetable Oil, Sorbitol, Lecithin, Aloe Vera (Aloe Barbadensis) Leaf Powder, Kojic Acid, Azelaic Acid, Maltose Monohydrate, Glucosamine HCl, Tannic Acid, Hamamelis Virginiana Water (Witch Hazel), Sodium Lactate, Niacinamide, Calcium Ascorbate, Aniba Rosaeodora (Rosewood) Oil (Rosewood)
The Pigment Bar is supposed to treat hyperpigmentation, so the kogic acid and azelaic acid work to exfoliate and make skin more even-toned. It comes with 3 flat little sponge discs - the sponges inflate after you wet them, really cool! You're supposed to use the soap with the sponge, leave the foam on your face for a few minutes, then rinse off. I find the included sponge way too rough for use on my face (and even my body) so I use my Nexcare facial cleansing cloth instead (which I shall review further on in the post). I have also tried using the soap with a muslin cloth or the Fancl facial sponge which works pretty well too. I've also heard of people using their Clarisonic with this. The main thing is, don't just use your hands, because it's difficult to get anything out with just your fingers because it's a hard bar soap. I usually moisten my cleansing cloth, use it to rub the surface of the soap which makes it easier to get product out since it's damp. While the instructions ask you to leave the foam on for a few minutes, I just cleanse and rinse, cos leaving the foam on too long makes my skin tingle.
I use the Pigment Bar daily in the evenings (it's a little harsh for morning use) and it really cleans out every pore really well. It can be drying for some, so you really need to moisturize well after use, and always use sunscreen because the acids will sensitize your skin. I do notice my skin becoming more even-toned, my pores becoming smaller and the great thing is, the Pigment Bar actually helps prevent breakouts! I find that if I use the Pigment Bar and my cleansing cloth every day, it actually exfoliates enough so that I don't have to use a face scrub or deep-cleansing mask so often, which saves time for lazy me.
There's an offer on Drugstore.com now, it's going for US$24 (instead of US$30) and I'm seriously thinking of getting a back-up if not for the fact that I have like 20 more cleansers waiting for some love. :(
Rating
: 9/10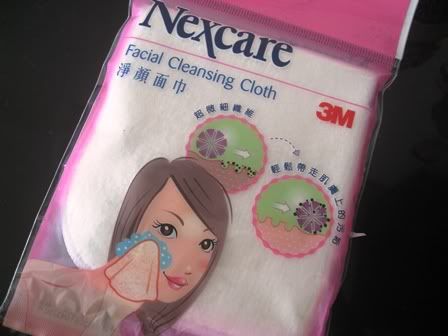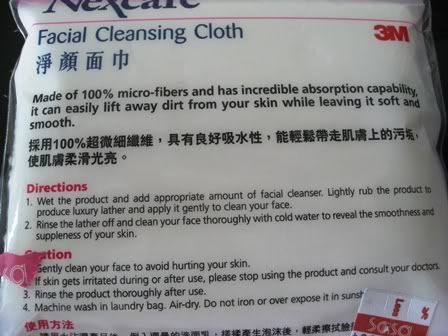 Nexcare Facial Cleansing Cloth
Speaking of my Nexcare cleansing cloth, I've been including it in my evening routine for quite a while now. I find it helps remove gunk from my face better, and I also think it is absolutely necessary when using a mild cleanser (which might not cleanse well enough). I only use it for evening though, I find I don't need such heavy duty cleansing in the mornings.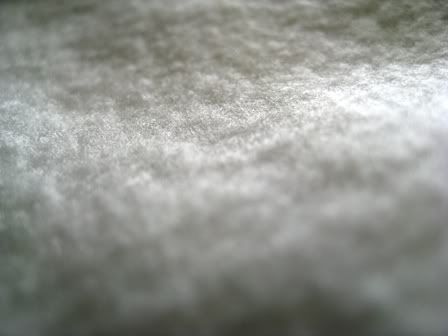 Here's how the cloth looks like up close - really soft (feels like a cloud when I use foamy cleansers) and the little loops help remove dirt and oils well. It's not harsh at all and it does not in any way replace my face scrubs/exfoliants. Comparing the cleansing cloth with a muslin cloth, I'd say the muslin cloth has more bite and a muslin cloth actually exfoliates while the cleansing cloth merely lifts dirt using the little loops. For foaming cleansers, using them with a muslin cloth might cause the foam to go flat, but Nexcare cleansing cloth doesn't do that. (Not as badly as the muslin cloth anyway). This Nexcare cleansing cloth is also gentler than the Fancl facial sponge and easier to dry.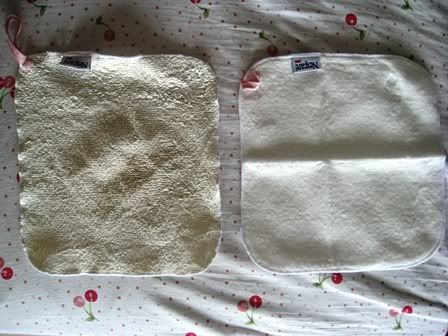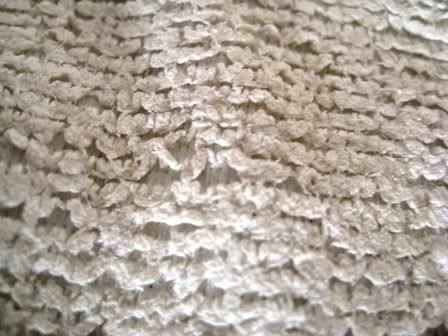 Ok, here you have a seriously disgusting photo of my Nexcare cleansing cloth, before and after. :P The cleansing cloth, at first, feels like a cloud. I think after a couple months' uses, it'll start feeling less soft (but still does the job) and you can see the loops very clearly. I used the old Nexcare cloth to remove clay masks from my face, which is why its condition deteriorated quite rapidly (it's pretty difficult to remove clay from the cloth and I think the clay ruins it, so I'm not using it like that anymore).
It's a pretty cheap cleansing cloth, costs about S$4 or US$3 when I bought it in Hong Kong (but slightly more expensive in Singapore), and if you take care of it well and wash it regularly, I think it could last you a pretty long time. A cheaper alternative to the Clarisonic I think! (I'm still waiting for the Sephora Friends and Family sale to get the Clarisonic Mia)
Rating:
9/10