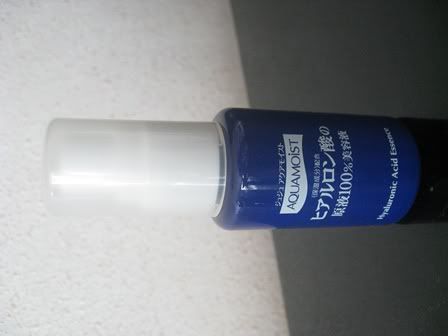 My sister gave me this bottle of Juju Aquamoist Hyaluronic Acid Essence about a month ago and since then I've been using it daily under my moisturizer. However I felt it didn't allow my make-up to adhere well because somehow the essence makes it a little difficult to layer products over it. For example, when I apply my sunscreen after the essence and moisturizer, it doesn't absorb as well as usual and kind of just sits on my skin instead, and when I try to pat it in, it comes off in little rubbery flakes. I have also experienced this (on a lesser scale) with the
Bio Beauty Advanced Hydrating Serum
which was lighter in texture than the Aquamoist. Hence I concluded this is probably a common problem with most hyaluronic acid serums, so I wouldn't discount the product's efficacy too much, and instead try to work around it.
Also, while doing this review, I came across this
description
of the essence from a Singapore distributor of Aquajuju products -
"It is up to the customers if they use it for "day use", however the maker's recommendation is for the "night use", as the essence is rich, there might be a possibility of making your makeup difficult to stick on the face. But decision is solely up to the individuals!"
Right. So I guess I'll just stick to night use then!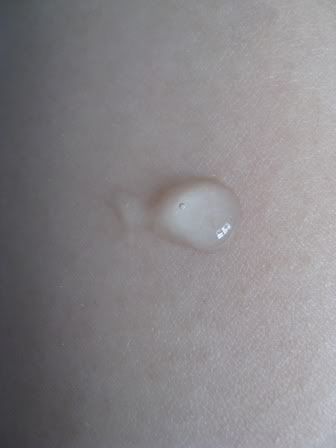 Here's the texture of the Juju Aquamoist Hyaluronic Essence - it is thicker than Bio Beauty Advanced Hydrating Serum, but other than that, totally similar. It has a somewhat slimy texture typical of hyaluronic acid serums that seems sticky at first but dries to a powdery film. The 'powderiness' of the film it forms when it dries on the skin is probably what causes make-up to not adhere well to it and come off in little clumps.
The main thing that puts me off repurchase - the price! It costs about S$39 for a mere 30ml of essence. In contrast, a 30ml bottle of
Bio Beauty Skincolody Advanced Hydrating Serum
costs less than half of that, about S$17 only, and works almost just as well! I find the Aquamoist slightly more moisturizing than the Advanced Hydrating Serum, but because of its thicker texture, can only be used at night, while the Advanced Hydrating Serum is light enough to be layered in the day.
Here's a comparison of the ingredients:
Ingredients for Aquamoist (from Makeupalley)
: Water, Sodium Hyaluronate, Phenoxyethanol and Methylparaben.
Ingredients for Bio Beauty Skincology Advanced Hydrating Serum
: Purified water, sodium hyaluronate, panthenol, sodium PCA, natto extract, cactus extract, butylene glycol, dmdm hydantoin, iodopropynyl butylcarbamate.
As for packaging, Aquamoist comes in a lovely heavy blue glass bottle with pump which will not leak when you travel with it. However the pump dispenser is not as easy to control as compared to the Advanced Hydrating Serum's dropper applicator. The Advanced Hydrating Serum comes in a simple clinical looking glass bottle too, but with a dropper which makes it easier to control how much product you use. The bad thing about droppers - you can't travel easily with droppers because the product tends to leak in the plane.
Take your pick! For me, the choice is obvious - I'd choose Advanced Hydrating Serum over the Juju Aquamoist Hyaluronic Acid Essence because I could buy 2 of them and still have change left, haha! It's also because I stay in a place with a humid climate and much prefer lighter-textured products. Still, Juju Aquamoist is a pretty good product and I have no regrets using it - the main issue is that I can get a comparable and affordable alternative, which makes it lose its competitive advantage.
Rating:
8/10