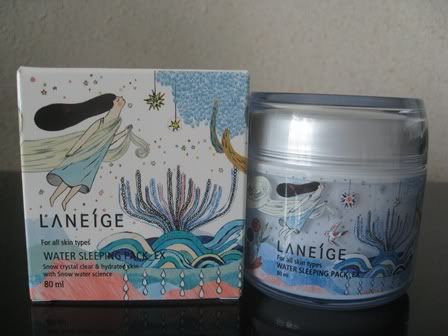 My friend helped me purchase a tub of Laneige Water Sleeping Pack EX from Korea. It's way cheaper there, about S$20 (~US$15) for an 80ml tub. And he got the one with the cute designs on the tub! I don't know if it's limited edition? Here's more photos of the design, it's really cute, much nicer than the plain-looking regular tub and makes me feel happy looking at it.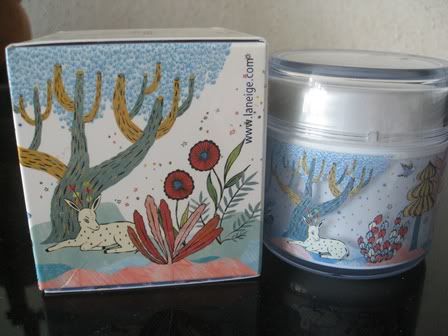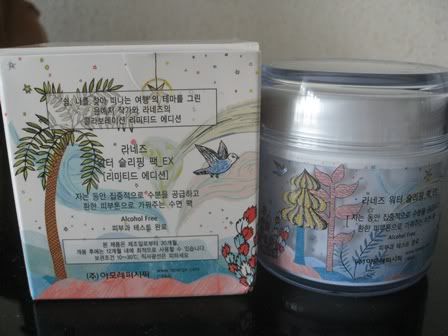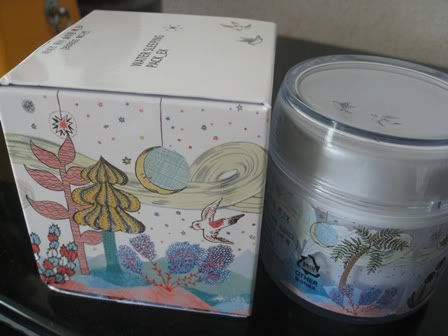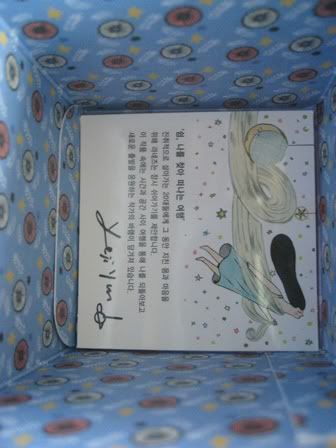 I like the way the tub is sealed to keep the contents fresh. Other similar sleeping masks I've used in the past don't come sealed; instead they have an additional plastic lid on top of the jar which I find kind of unnecessary but I guess it serves the same purpose?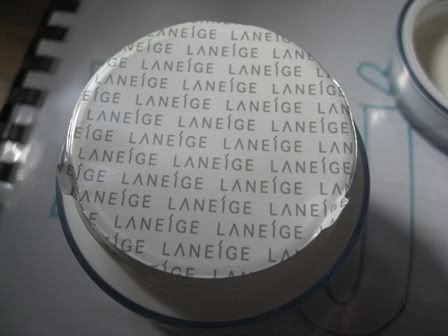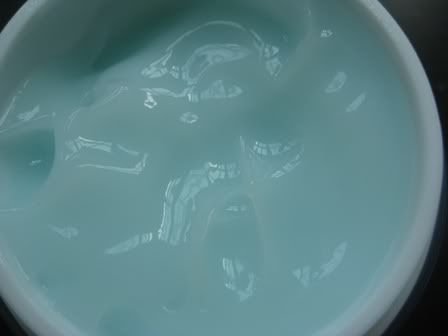 The sleeping pack has a really nice gel texture that is readily absorbed - when I first apply it, it makes my face look very dewy (but not the kind I would want to go out in the day with, so this is strictly for night-time use). I use quite a generous amount of it, about a slightly heaped teaspoonful for the whole face. It comes with a plastic spatula (not pictured) so no problems with hygiene!
The way I apply it - don't just smooth it on and let it sit on your skin, you have to pat it in. It doesn't break me out at all this way and makes my skin super smooth and supple in the morning. I've been working late and feeling very stressed with a bout of gastritis the past week, so my skin has been horrid, dry with some zits. The Water Sleeping Pack has helped soothe and hydrate my skin really well and left it moisturized after just one use. It's a skin-rescue treatment for when your skin is dry yet still breakout-prone, and moisturizes my skin without causing breakouts (which is quite difficult as you can imagine).
This is a fragranced product, I've read it can be irritating to some people but I love the scent, it's very light and soothing. Apparently it contains hyaluronic acid (yay! no wonder it moisturizes well). I'm guessing the dewy look I get when I apply it is due to the cyclomethicone (third on the list). Doesn't break me out though!
Ingredients (from MakeupAlley so I'm not too sure how accurate it is since I can't read Korean): Water, Butylene Glycol, Cyclomethicone, Glycerin, Trehalose, Alcohol, Sodium Hyaluronate, Vaccinium Angustifolium (blueberry) Fruit Extract, Dimethiconol, Dimethicone/Vinyl Dimethicone, Ammonium, Acryloyldimethy Itaurate/Vp Copolymer, Polysorbate 20, Triethanolamine, Hydrogenated Lecithin, Carborner, Mannitol, Arginine, Serine, Sucrose, PCA, Citrulline, Glycogen, Histidine, HCL, Alanine, Threonine, Glutamic Acid, Lysine HCI, Magnesium Aspartate, Zinc Gluconate, Calcium Gluconate, Copper Gluconate, Pentaerythrityl Tetraisostearate, Silica Dimethyl Silylate, Sodium Chondroitine Sulfate, Atelocollagen, Beta-Glucan, Disodium Edta, Imidazolidinyl, Urea, Methyl Paraben, Propyl Paraben, Fragrance, Blue 1 Yellow 5.
The recommendation is to use the sleeping pack a couple of times a week, but since it's not heavy at all and I don't really have a good moisturizer for night right now (I'm skipping the Vitacreme currently with my skin's condition), I use it once every 2 days (alternating with another gel hyaluronic acid moisturizer which I'll write about in a while) and it works pretty well like that. I even dab it on my eye area (after putting on eye cream). The only thing - it can be expensive if you don't get it directly from Korea.
Rating:
9/10
--------
Gosh I really feel like I'm aging much faster than other people my age (22). No thanks to my horrible job! While working late is the nature of my profession, there are many who have better lives than I do, who are better remunerated and it can get trying. I'm trying desperately to get my youth back. I feel so unnerved every time I'm in front of my miror applying products. I'll be thinking 'is that a wrinkle I see there?!'
I've got some horrible new addition to my portfolio in the coming year which I predict will accelerate my aging process. >_< I'm going shopping soon to buy more products to cheer myself up! :D Till next time ~