This is just a little FOTD I did a couple of weeks ago for a shopping spree with friends.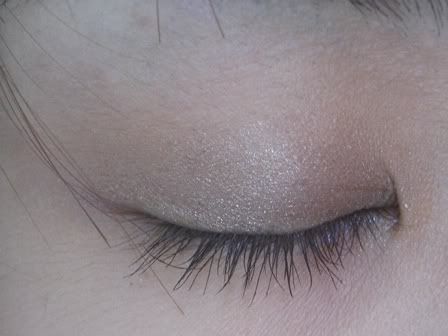 Items used:
- Bourjois Shimmering Shine liquid eyeshadow reviewed
here
Urban Decay 24/7 eyeliner pencils
- Perversion (true black, tightlining upper outer 2/3)
- Rockstar (deep purple, outer waterline)
- Ransom (glittery light purple, inner waterline)

I purchased the Urban Decay 15th anniversary set with all the UD eyeliners last year, haven't reviewed them cos they're all over the place! I love eyeliner pencils, they're quick and easy and the Urban Decay ones are really good and creamy and last long. (Regular eyeliners never last long on me; the only other good ones I can recommend are MAC powerpoints.) I really like Ransom, it's more glittery than it looks! A very dimensional, multi-faceted colour as you can see below:

Full face:
I was using Lancome Macqui Blanc Miracle compact powder foundation, I purchased it at duty-free for much cheaper than regular retail price, a really good buy! I'll do a separate review one day, I love how it makes my skin look so much better and lit-from-within. Usually I'm really sallow and tired-looking. >_<
I took leave today so I'm rushing out for a massage now. :D Toodles!