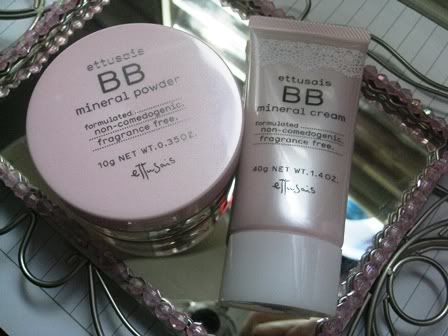 I purchased these 2 weeks ago - the packaging was too cute and it promised baby-smooth skin. I'm such a sucker for stuff like that. The BB mineral cream is $38 for 40g while the BB mineral loose powder is $38 for 10g and doesn't come with a refill. (Ettusais' other loose powders are more expensive, but they have the option of refills.)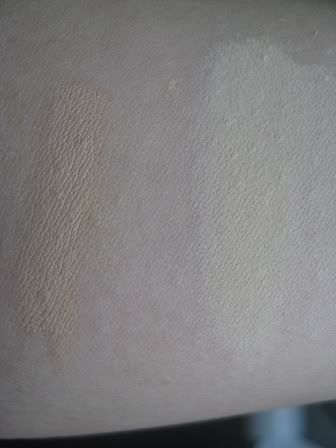 That's the swatch of the BB mineral powder in Natural Beige on top, and the BB mineral cream in 030-Natural Beige (darkest) at the bottom. The powder comes in 2 shades - Light Beige and Natural Beige, while the BB cream comes in 3 shades - 010, 020 and 030.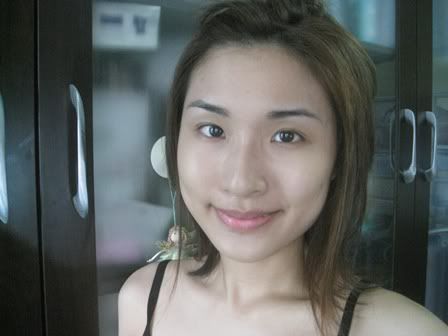 This is me with just the Ettusais BB mineral cream on - shade 030 (darkest). Coverage is light but I'm fine with that - apologies for dark eye circles. Haha!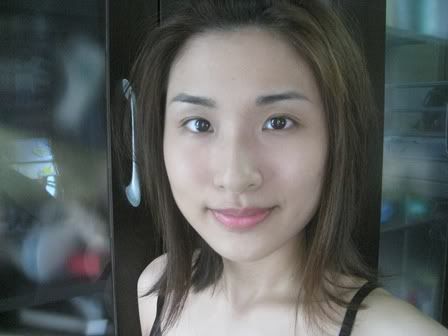 And this is with both BB cream and the BB mineral powder (Natural Beige).
Ettusais BB Mineral Cream
I'm purchased this BB cream because I like how I can choose the shade I want. Previously I had so many tubes of BB creams but I was really annoyed that they all came in only one colour. They're all very fair and not suitable for anyone beyond NC25 skintone, and a lot of them are for super-pale people! I got shade 030 which is a good match for NC30 (030 is a little too dark for NC25). But as you can see from the swatch photo above, it runs a little orange. I'm really yellow-based, usually I get Ettusais foundations in the yellow-toned shades which suit me very well.
The BB cream comes with SPF30 PA++ and when I use it, I skip my regular sunscreen so it helps save time. The texture is very creamy and a little powdery and siliconey (but not overly so). It blends much more easily as compared to Korean BB creams, and I find the oil control is really awesome for a BB cream - I can go about 4 hours fresh-faced.
The ingredients list in English comes in a tiny, tiny silver sticker stuck to the side of the plastic packaging. I nearly went blind trying to read it!
Ettusais BB Mineral Cream ingredients:
Water, Dimethicone, Cyclomethicone, Alcohol, Nylon-12, Cyclopentasiloxane, Titanium Dioxide, Ethylhexyl Methoxycinnamate, CI 77891, Lauryl Peg-9, Polydimethylsiloxyethyl dimethicone, Glycerin, Zinc oxide, Disteardimonium hectorite, Diphenylsiloxy phenyl trimethicone, Erythritol, Xylitol, Dimethicone crosspolymer, Isostearic acid, Phenoxyethanol, Aluminium hydroxide, Alumina, Isostearyl alcohol, Triethoxycaprylylsilane, Polysilicone-2, Tocopherol acetate, BHT, Calcium chloride, Magnesium chloride, Peg/Ppg-14/7 Dimethyl ether, Sodium hyaluronate, Sodium acetylated hyaluronate, Tocopherol, CI77491, CI77492, CI77499.
I'm a little freaked out by all the ingredients in the list, there's lots of -cones, but there is also hyaluronic acid which is moisturizing, and Vitamin E. I find this BB cream moisturizing, yet oil-controlling, which is really good for oily but dehydrated skin. Usually BB creams are heavy and people with acne-prone skin will break out easily from using them, but the Ettusais BB cream actually lets my skin breathe without clogging it up. I've tried Ettusais' other liquid and powder foundations and I have to say - they're really good for acne-prone skin. I've never had a clogging problem with their base products.
The only bad thing? The colour's not yellow enough for me (might be good for others), and it gives a white cast in flash photos because of the sunscreen. (Note: The white-cast-in-flash-photos problem seems to be a recurring one with all Ettusais products I've tried. Just remember not to use Ettusais on a night where you're gonna be taking lots of flash photographs.)
Rating
: 8/10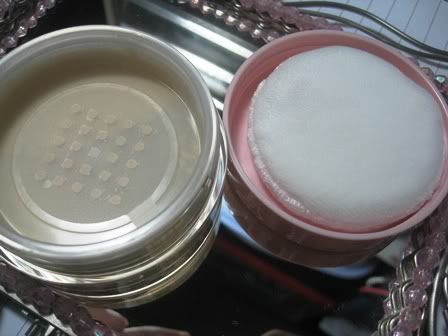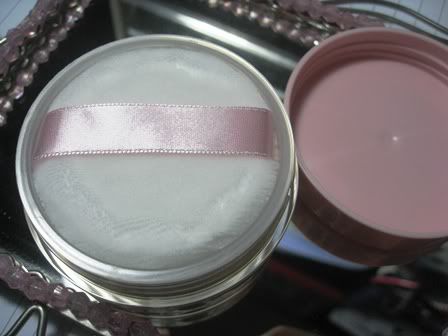 Ettusais BB Mineral Powder
The powder is very finely milled and blurs pores very well. Plus, this is one of the few loose powders where I actually use the included puff! Usually some loose powders come with very pretty puffs which turn out to be useless, but the puff that comes with this one is actually very functional. It's soft and the powder goes on easily (no patchiness!) and blends well by patting and rolling. Oil control is pretty good, I'd give it a 7/10 for keeping the oilies away. I've tried better oil-control powders but they also tended to be drying, so I think this Ettusais BB mineral powder has a good balance between oil-control and moisture. It also has SPF16 (but honestly, SPF16 in a loose powder doesn't really protect well enough, so I always disregard such claims when I'm trying to decide whether to buy a powder).
Ettusais BB Mineral Powder ingredients:
Talc, CI77019, Titanium dioxide, CI77891, Calcium carbonate, Dimethicone/Vinyl dimethicone crosspolymer, Methyl methacrylate crosspolymer, Zinc myristate, CI77947, CI77492, Aluminium hydroxide, Silica, Aluminium distearate, CI77491, Chlorphenesin, CI77499, Isostearyl alcohol.
Rating
: 8/10
Hope this review is helpful! I really like Ettusais because their base products are really good for acne-prone skin and they offer a yellow-beige shade range for really yellow Asian skintones (sounds bad but that's me, hur hur).
However, their products are really quite expensive and while they give the impression of really good skin, the base products give a white cast in flash photography. So it's kind of like, even if I look like I have good skin, if I can't take a photo of it, I can't show other people that I have good skin, so what's the point, you know? I can only hear compliments from people who see me in real life, but hey that's good enough I guess. (Gosh that was a bimbotic comment, but I'm vain.)
Maybe when I have the time I'll review more of my Ettusais stash! :D