Other than My Beauty Diary masks, the only other masks I use and repurchase regularly are Dermal masks (a Korean brand). They can be found at Watson's or Sasa, I think about S$2 a piece, but sometimes I get them cheaper on sales. I don't really like to spend a lot on sheet masks since they're single-use products. These are comparable to My Beauty Diary and almost as cheap! I actually prefer Dermal to My Beauty Diary because the Dermal masks come with eyeflaps which I can choose to cover my eyelids, or fold over my undereye for extra moisture, while My Beauty Diary masks don't have eyeflaps. Dermal masks come in lots of flavours too, but today I'll just review two.
Ingredients for Dermal White Collagen essence mask: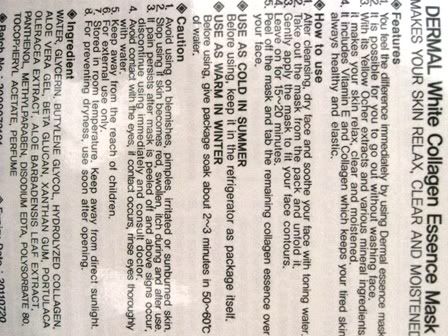 Ingredients for Dermal Coenzyme Q10 essence mask: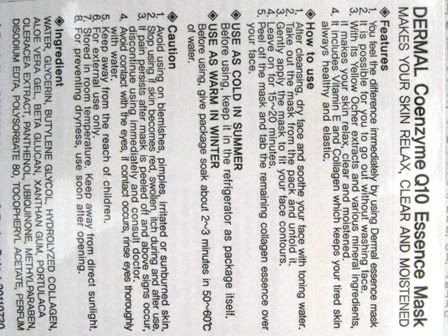 I find these two masks pretty similar, the ingredients are quite similar - they both contain vitamin E and hydrolyzed collagen. I do find the White Collagen one brightens up my skin a lot after use as compared to Coenzyme Q10. I like the essence - it's very generous (White Collagen has 23g essence compared to Coenzyme Q10 which has 20g) and the mask is very moist even after 20 minutes.
The mask is thick, better quality material than My Beauty Diary masks (but without the plastic sheet sticking to the mask, which is fine for me as I dislike the plastic sheets, they make it messy for me) and the serum is less watery than My Beauty Diary masks. The serum feels very moisturizing yet light enough to be absorbed easily by my skin - I feel like my skin is drinking it up and though it's so moisturizing, it doesn't break me out at all! (I have previously tried some masks with similar, slightly thick essence and got breakouts, but Dermal essence masks never break me out.) Plus, after I remove the mask and pat in the remaining essence... my skin looks brighter and pores look smaller, everything looks calmer in general. Really love it. It's better than My Beauty Diary! Honestly! I find My Beauty Diary masks over-fragranced in comparison.
I love Dermal essence masks! Honestly, I can't decide between the two flavours, so I always alternate between them. I try not to use the whitening one too often though, because there is a shade differential between my face and neck. :(
Rating
: 10/10
I will repurchase over and over again! You can find all the flavours and other products made by Dermal
here
!
--------
Just to share a Korean meal with a friend the other day... Oden and korean fried chicken at Kko Kko Nara - the fried chicken is awesome. Portions way too big for 2 though.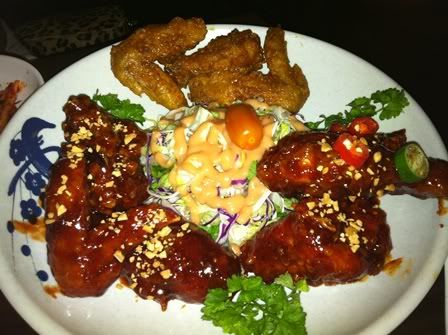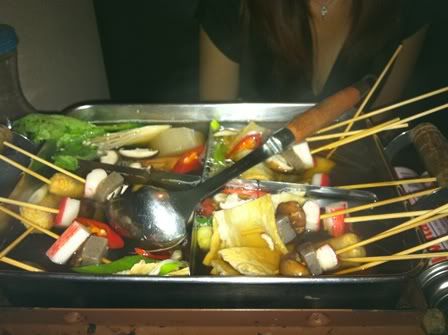 Original crispy chicken, sweet and sour, and sweet and spicy! Awesome. They bring tears to my eyes.
Tomorrow will be the last day of my leave from work... I hope to enjoy it! I actually went out exploring to some hard-to-find beauty places on Monday, will blog about it soon! Till next time~