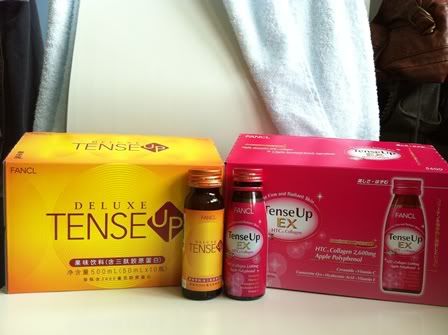 Recently Fancl Singapore introduced a new product called "Deluxe Tense Up" which sounds like an upgraded version of the regular Tense Up EX (which I try to drink once a week during peak period when I work late nights). The countergirl told me that Deluxe Tense Up is actually a Hong Kong version of Tense Up EX and there are no real differences in the ingredients... but there are! I took a photo of the ingredients list for both.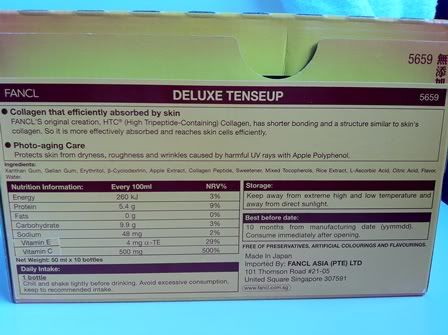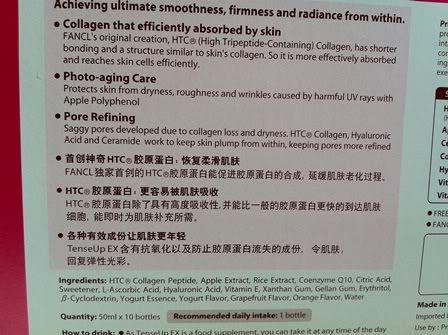 Ingredients for Deluxe Tense Up:
Xanthan gum, Gellan gum, Erythritol, Beta-cyclodextrine, Apple extract, Collagen Peptide, Sweetener, Mixed tocopherols, Rice extract, L-ascorbic acid, Citric acid, Flavor, Water.
Ingredients for Tense Up EX:
HTC Collagen Peptide, Apple extract, Rice extract, Coenzyme Q10, Citric acid, Sweetener, L-ascorbic acid, Hyaluronic acid, Vitamin E, Xanthan gum, Gellan gum, Erythritol, Beta-cyclodextrine, Yogurt essence, Yogurt flavor, Grapefruit flavor, Orange flavor, Water
I think the original pink Tense Up EX seems like it's more beneficial for the skin because there's coenzyme Q10 and hyaluronic acid as well! And the collagen peptide comes first for the regular TenseUp EX.
One thing though... I prefer the citrus flavour of the new Deluxe Tense Up to the yogurt-grapefruit flavour of the regular TenseUp EX (the yogurt flavour is a little too strong and artificial).
They both retail at the same price (S$61.50 for 10 bottles) but currently there's a promotion for Nov'11 where the new Deluxe Tense Up is retailing for S$43 for 10 bottles. I purchased both and I think the original TenseUp works better, it leaves my skin clearer and firmer when I drink it the night before. I always try to drink it on a Friday/Saturday/Sunday night when I can go to bed early at midnight (I usually turn in after midnight) so that it can be absorbed better during the hours of 11pm-2am. The Fancl people recommend it to be taken daily before bedtime, but I'm still pretty young so I take it once a week, or twice a week if I'm super exhausted and my skin is horrid and dull and no amount of exfoliation or masking helps.
Plus: Do you know? Lugging around a box of 10 bottles of TenseUp home from the Fancl counters can be tiring since they're so heavy! It's even worse if you want to purchase multiple boxes during your birthday month (because you get rebates then)! Don't fret! You can actually make the purchase during your birthday month and get the rebates, then just get a redemption card that records your purchase. Then as and when you like, you can go back to any Fancl counter to collect a new box of TenseUp! This also ensures that you always get a fresh box of TenseUp (since they have no preservatives and have short expiration dates). :D
Seriously I love Fancl. I do realise some of their supplements (such as the calcium or iron tablets) are not the best and most effective in the market as compared to say, Nature's Farm or GNC, but I like that they have chewables for calcium and iron, and the tablets that need to be swallowed are quite tiny in size (because I can't swallow tablets and pills well).
I'm going out for a picnic now, till next time ~~