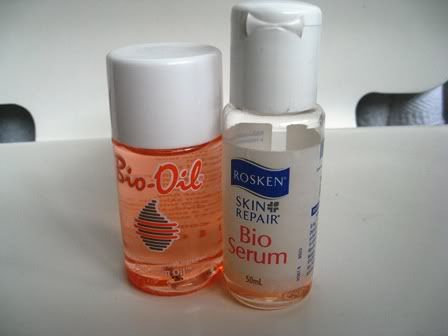 I had previously done a review of Rosken Bio Serum and compared ingredients of Bio Serum and Bio Oil
here
, and I've since repurchased once. Recently Bio Oil has finally made it to Singapore and they keep advertising it on TV, so I decided to purchase it and make a comparison! Bio Oil is S$15.50 for 60ml while Rosken Bio Serum is S$15.90 for 50ml. As yet, they don't sell the big bottles in Singapore. They're so similar, they're both rose-coloured oils but when you use it, they're actually slightly different.
Left: Bio Oil; Right: Rosken Bio Serum.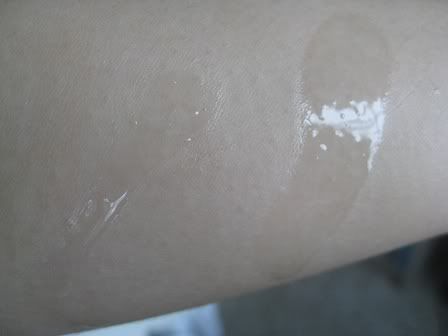 Left: Bio Oil; Right: Rosken Bio Serum

1. Bio Oil
Scent: Floral, a little powdery, reminds me a little of Johnson's baby oil or baby shampoo. I don't really like this kind of scent in a body oil, but this is just a personal preference. It is a soothing scent, but a little too soapy for my liking.
Consistency: Kind of like baby oil too, except more fluid. It feels slightly oily to the touch and leaves my skin a little bit greasy/sticky upon application at night, but it's gone by morning. It's like a dry oil which rubs in easily into skin and is quickly absorbed.
Packaging
: Bio Oil comes with a screw top cap which is slightly more fussy than a flip-top cap. Also, it comes one of those tops with a hole in the middle like some toners, so you have to shake the oil out with some patience because you can't squeeze the oil out easily.
Comments
: Pretty good, equally moisturizing in feel as Bio Serum. Feels a teeny little bit greasy (like a dry oil) but is easily absorbed and leaves my skin very soft instantly, and smooth by morning. A good moisturizer/softener and has pretty good healing properties. It helped heal and lighten my moisquito bite scars quickly, and if you have a dry, rough, peeling scab, it will moisturize and heal it faster. (This is true of Bio Serum as well.)
It is claimed that Bio Oil can be used for the face as well, but I haven't tried it.
Price
: S$15.50 for 60ml, slightly cheaper than Bio Serum.
Rating
: 9/10
2. Rosken Bio Serum
Scent
: Lovely soothing lavender scent. I love this.
Consistency
: Like cleansing oil. Slightly more viscous than Bio Oil but somehow, Bio Serum applies much more smoothly, like a fluid serum, and it totally not greasy at all. Bio oil rubs in easily but Bio Serum applies smoothly like a layer on top of the skin, which is absorbed by morning.
Packaging
: Bio Serum comes with a flip-top cap which I prefer, it's faster than opening a screw-top cap. I also prefer the raised nozzle for Bio Serum - the serum flows faster through the hole and it is easy to control the amount used. The Bio Serum bottle is also easier to squeeze than Bio Oil's bottle, so I can squeeze out the amount I want quickly and efficiently, while for Bio Oil, I have to shake patiently. The Bio Serum bottle is also more ergonomic than Bio Oil's bottle in the sense that it is slimmer and easier to grip, while Bio Oil's bottle is more stout.
Comments
: Everything Bio Oil can do, Bio Serum can do too! Bio Serum feels slightly more moisturizing, maybe because of the thicker, more viscous texture. Results are fast - overnight I can see the difference in texture of my skin, especially on scars. I would choose Bio Serum because of easier application and the texture feels better on my skin. Bio Oil leaves my skin softer, while Bio Serum leaves my skin smoother.
Price
: S$15.90 for 50ml, slightly more expensive than Bio Oil (which is surprising because I thought Bio Oil should be more expensive as it seems more 'famous'). However, it's worth every penny! I would definitely choose Bio Serum over Bio Oil. Rosken doesn't seem to advertise their Bio Serum much as compared to Bio Oil, but seriously, choose Bio Serum. I love it so much and the scent is heavenly. Also, I prefer a serum texture as compared to dry oil texture.
Rating
: 10/10
Results
: Bio Serum wins! But Bio Oil is a great option too. If you're ok with the scent, go for Bio Oil since it is a more economical option!
Note: Both can be used on the face, but very very sparingly. They claim to be non-comedogenic but do a patch test first, especially for oily skin. For acne-prone skin, best to skip using on the face!
Hope this is useful; I hope to try Palmer's Skin Therapy Oil soon and do a comparison too. I spied it at the drugstore and it seems like a good option as the price is about the same, but I think the colour of the oil is different and the ingredients might be different too. Till next time!