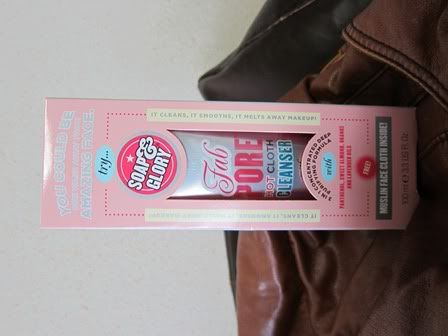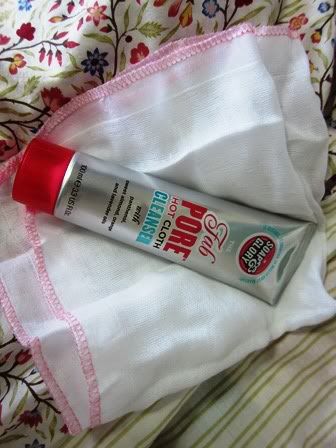 Ok, I promise this is the last Soap & Glory product I'm reviewing for now! (I'm not buying any more of them right now only because I'm out of funds. Hehe.) It's the Fab Pore Hot Cloth Cleanser and I think it costs S$24 (~US$16) for 100ml. I've read reviews online and people say it's a more affordable alternative to Liz Earle's Cleanse & Polish or even the scarily expensive Eve Lom Cleansing Cream. However, it's still kind of expensive to me. (Does that make me a cheapskate??) I will explain shortly after.
First let me describe the texture of the product... (Oh no I forgot to include a photo of it!) It's a lovely buttery cream, the texture is kind of like L'occitane's shea butter hand cream, but less "oily". It is not oily at all, it smells wonderfully of lavender and other essential oils. Some people might not like the scent (it is a very true, earthy, non-synthetic scent), but I love it because it is very natural. If you have used Dr Hauschka or Jurlique products, you will probably know what I am talking about. When I cleanse my face with this, I feel like I'm undergoing some form of aromatherapy session!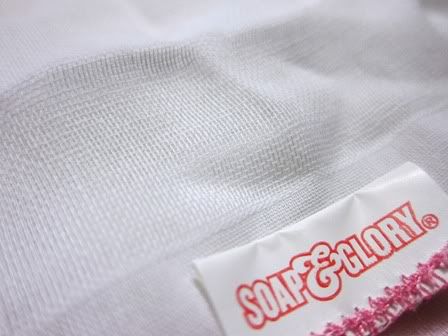 You can see it comes with a free muslin cloth, pretty thin and it doesn't have as much bite as the Body Shop ones I used previously (then again, the Body Shop no longer sells muslin cloths, they tell me). This makes it more gentle than regular muslin cloths, I'd imagine.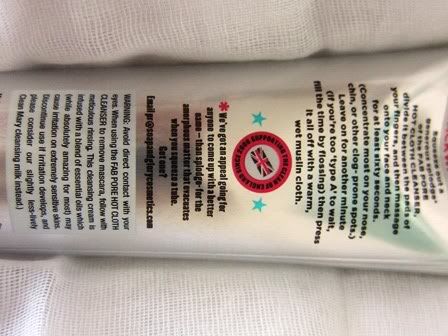 As you can see from the description of the cleanser, it's supposed to remove make-up as well. The recommended way of cleansing is just a one-step process. I apply a humongous splodge of cream cleanser to my dry face, rub it all in (somehow my skin will 'absorb' the cleanser like a cream, so I need a huge splodge), wait a minute, then wet the muslin cloth with super hot water, squeeze it till it's just the slightest bit damp, then put the huge square of hot muslin over my face to open up the pores. (Breathe deeply! Smell the lavender and relax...) I will repeat the hot muslin step a couple more times, then finally use the damp, warm muslin cloth to gently press away all my make-up, rinse the cloth, then use the cloth to exfoliate till my face is clean. The cloth will look really dirty from all the make-up but after rinsing and repeating, all the make-up will be gone.
As I am used to double-cleansing, sometimes when I have a full face of make-up, I'll cleanse my face per normal, then repeat by reapplying a fresh splodge of cleansing cream. It is very important that the face is dry when the cleansing cream is applied, because it will not remove dirt properly on wet skin. Is it as time-consuming as it sounds? Hell yea!
Now I will explain why this habit is expensive. I don't spend a lot on cleanser - the most expensive cleanser I purchase would probably be about the same price as this cream cleanser, but it would be for about twice the amount of product which would last me more than twice as long. Even if I factor in double-cleansing or the cost of a separate make-up remover, it would probably still be more economical than this cream cleanser. I think the 100ml tube of hot cloth cleanser will last me about 2 months. I've used it for 3 weeks now and I've got 2/3 of the tube left.
You might wonder if a cream cleanser can really leave skin clean? Well, I only use this in the evening (I use a regular foam cleanser in the morning) so it has worked pretty well this way. I definitely have to be careful about cleansing near the hairline with this cream cleanser, and I always follow with toner to remove any remnants of cream. (I use Simple toner, and with this cleanser, you need to use the cotton pad way of applying toner, to remove traces of cleanser. I wouldn't use a Japanese kind of softener or toner with the patting motion together with this cleanser.) Also - I have tried using this cleanser to remove waterproof, super budge-proof Majolica Majorca mascara and it did it easily! Impressive.
Ingredients: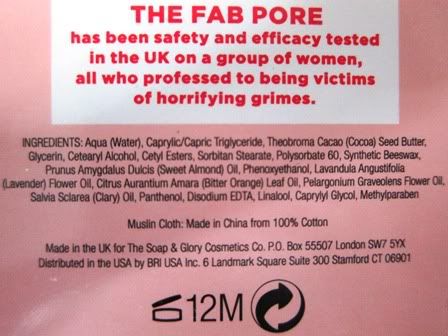 How do I feel about this cleanser? Well, I really really really love the scent of it, it's so relaxing, and going through the tedious ritual every night (with lymphatic drainage massage when applying the cream on, if I'm diligent) is really soothing. However, it is just too time-consuming to do on a regular basis and while my skin does glow after use, sometimes I just feel like using a regular cleanser because it feels like it 'refreshes' my skin more. I would probably repurchase this, but I might use it only on the weekends.
Rating: 9/10
-----
I hope everyone had a great Christmas! I know I did! I'll be going on a mini family vacation early tomorrow morning and oops, I haven't started on packing yet. >_< I'll end with a funny photo: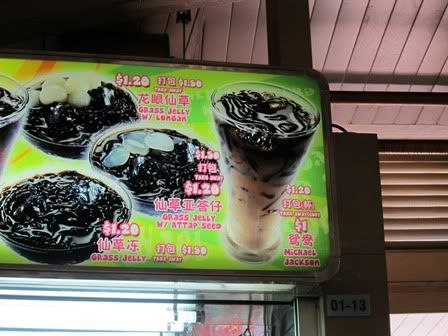 Michael Jackson = Soy milk and grass jelly. Because it's black and it's white! Haha. Saw this at Holland Village food centre. The owner is kinda grumpy though and honestly, this stall's drinks don't taste so nice. :P
Till next time!