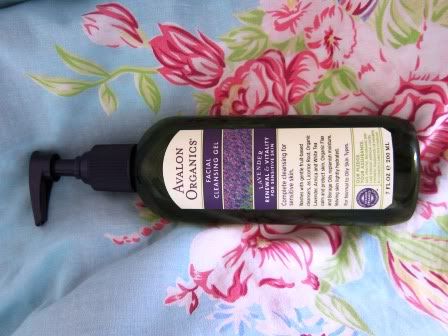 Well hello I'm finally back after long weeks of non-stop working. Every day, I slept at about 3am and I worked through the weekends. I think my skin aged at least thrice as fast these few weeks, and I started to break out. I got whiteheads that became inflamed pustules (sounds so gross, it really is) which is considered a mild/moderate form of acne as compared to cystic acne (severe).
So I changed my skincare regimen and started to use this Avalon Organics Lavender Cleansing Gel, because my oily/dehydrated skin really works best with such gentle gel cleansers, plus the lavender scent helped to destress.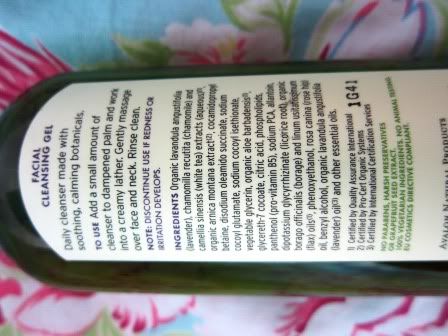 Ingredients: Organic lavandula angustifolia (lavender), chamomilla recutita (chamomile) and camellia sinensis (white tea) extracts (aqueous)(1), organic arnica montana extract(2), cocamidopropyl betaine, disodium oleamido succinate, sodium cocoyl glutamate, sodium cocoyl isethionate, vegetable glycerin, organic aloe barbadensis(1), glycereth-7 cocoate, citric acid, phospholipids, panthenol (pro-vitamin B5), sodium PCA, allantoin, dipotassium glycyrrhizinate (licorice root), organic borago officinalis (borage) and linum usitatissimum (flax) oils(1), phenoxyethanol, rosa canina (rose hip) oil, benzyl alcohol, organic lavandula angustifolia (lavender) oil(3) and other essential oils.
I really love such gel cleansers which foam gently due to the cocamidopropyl betaine. It helps cut through the oil and grease on my skin without drying it out, and cleanses gently while thoroughly, rinsing cleanly and quickly (unlike paste cleaners which often feel like they leave residue on your skin). And it smells so lovely because of the lavender (which is a natural antibacterial and thus helps eradicate acne), which helps calm me down, and it calms my skin down too... but the scent is a straight lavender (not like other cleansers which usually mix lavender with sweeter scents like vanilla or mandarin) which some people might not like.
Plus - it's organic, contains essential oils, flax and borage oils for moisture, and white tea for antioxidants. It's relatively affordable (US$11.95 for 200ml) and it must be quite popular because my sister has been trying to repurchase it but it's sold out at all 3 branches of Watsons she visited! However, some people might be sensitive to lavender oil, and I've read reviews where people with sensitive skin found this cleanser too drying/stinging. I think if your skin's moisture/protective barrier has been compromised by overexfoliation or other reasons, you should avoid this cleanser. I have really oily but dehydrated skin and I occasionally get sensitivity in my cheeks (where the skin seems thinner), but this cleanser works fine with me.
Other comparably gentle gel cleansers which I have previously reviewed are the
Sukin Foaming Facial Cleanser
,
Eucerin Dermopurifyer Cleanser
and Renew Rosehip Foaming Facial Cleanser which I realised I haven't reviewed yet (it's good!)
Rating: 10/10
I just purchased a tube of Avene Diacneal today at the drugstore, it's really expensive and I read on MakeupAlley that it's been discontinued, but somehow they're still selling it in Singapore. I'm hoping it'll help cure my skin. My skin's not super awful or anything but I want smooth skin again! Will review in a couple of weeks. Cross my fingers!