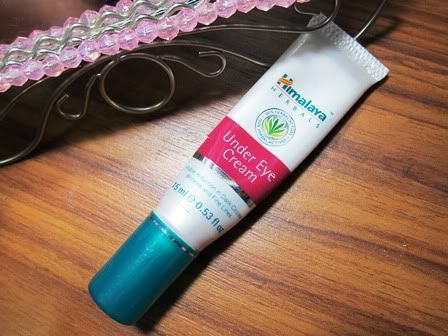 I've had this eye cream for a while, I purchased it because apparently it has won awards from some magazine (Singapore Women's Weekly or Elle, I can't remember which). Also, I've always been crazy about 'natural' products, and this one claims to contain a mix of herbs (sounds natural huh) that help to lighten dark circles by 80% and fine lines by 28% in 4 weeks! -Insert bimbotic 'Omg!' here- I purchased this for about SGD19 for a 25ml tube, pretty reasonably priced for a drugstore eye cream.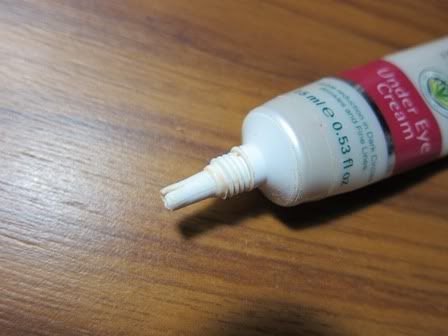 What I found when I opened the box - a split nozzle. So it kind of irritated me and it all started going downhill from there.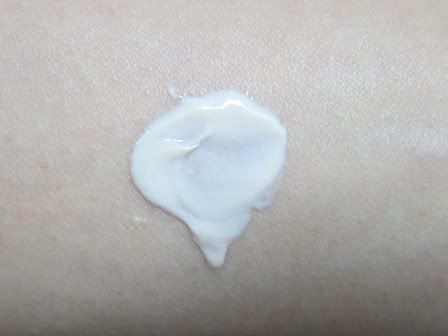 The cream has a thick, slightly sticky/tacky consistency. It is light beige in colour which, when blended into the eye area, helps to make the eye area appear just the slightest bit brighter. Honestly, I don't really like the consistency - it is too thick to blend and I feel like it sits on my skin, like it's not being absorbed. Plus, I have a feeling it contributed to milia seeds on my undereye area. Also, though it is thick and creamy, I don't think it feels moisturizing enough.
What good things do I have to say about it? It's fragrance free and safe for contact lens wearers. That's pretty much all. Let me continue pointing out the bad in the ingredients list - mineral oil might clog pores; petrolatum is occlusive, and while it creates a barrier to keep moisture in, it doesn't allow moisture to be absorbed from the atmosphere; cetearyl alcohol and paraffin are comedogenic, and imidazolidinyl urea irritates skin.
Ingredients: Bergenia ligulata, cipadessa baccifera, wheat germ oil, aqua, propylene glycol, mineral oil, caprylic/capric triglyceride, paraffin, cetyl alcohol, steareth 2, glyceryl stearate, steareth 21, petrolatum, cetearyl alcohol, carbomer, triethanolamine, xantham gum, tocopherol acetate, methylparaben, propyl paraben, disodium EDTA, imidazolidinyl urea
I have noticed Himalaya Herbals is a pretty affordable brand, but the 'Herbals' in its name does not make it a natural product. I will be staying away from this brand in the future, after this bad experience. :(
Rating: fail