Oops I've been gone for a couple of weeks. (I blame it all on The Job.) So my skin has been flaring up recently, the worst since I was 19? That's like 4 years ago. It pretty much came about due to the stress and late nights from The Job. I've read about Avene Diacnéal before but I had good skin so I never got the chance to try it. Now that my skin had become horrible, it was a good chance for me to try it out. (Always look on the bright side...)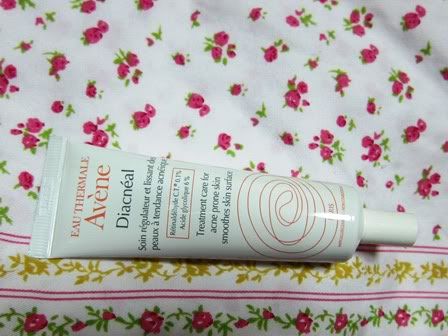 I read on MUA that Diacnéal has been replaced by Triacnéal, but somehow Singapore's version is still called Diacnéal and there hasn't appeared to be any changes. (The expiry date on my tube is June 2013 so I don't think I purchased an old tube...) The active ingredients are 0.1% Retinaldehyde (prevents thickening of skin and formation of blackheads) and 6% Glycolic Acid (exfoliates and 'peels' skin to reduce blackheads and smoothen skin).

This is the first time I'm using a retinol and glycolic acid treatment... I applied a thin layer almost every night (only at night). I say almost every night because if my skin feels dry or tight or itchy, I listen to it and I skip treatment that night, substituting with a light moisturizing sheet mask. While on Diacnéal, I also skip exfoliation, scrubs and deep-cleansing masks. Usually I exfoliate/mud mask about once or twice a week. With Diacnéal, I do so only once or twice a fortnight, and on the day I do so, I skip Diacnéal and use a moisturizing sleeping mask after. So I believe you do have to listen to your skin and give it what it needs.

On to the pictures!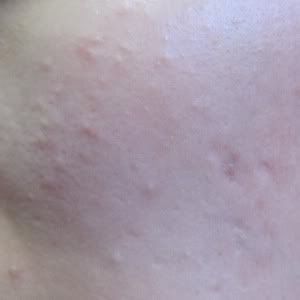 1. Before treatment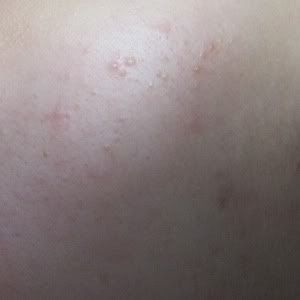 2. After 1.5 weeks of treatment.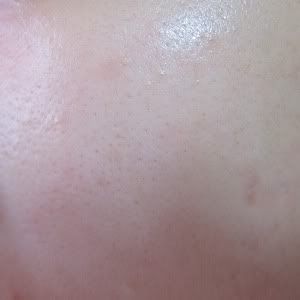 3. After 4 weeks of treatment.
So the photos above are of my left cheek, the lighting conditions look different because #1 was taken in daylight, #2 was taken in the wee hours of the morning after work under my desk lamp, #3 was taken on a cloudy day under my desk lamp. I'm afraid I didn't have time to take many photos, but you can see how my skin has gradually improved!
I realise I haven't taken a photo of Diacnéal itself... it's a thick yellow cream, feels quite heavy so I only use a very thin layer of it, and only at night, followed by a moisturizer. You do have to let your skin adapt to it, and it might sting on areas where you have zits, but other than that, I haven't experienced any hyper sensitivity to it. Also, it is very important to put on sunscreen in the day, since Diacnéal increases your skin's sensitivity.
Ingredients: Water, Cetyl alcohol, Cyclomethicone, Polysorbate 60, Glycolic Acid, Avene Thermal Spring Water, Alcohol, Sodium Hydroxide, BHT, Dimethiconol, Fragrance, Polymethyl methacrylate, Potassium sorbate, Red 33, Retinal.
Rating: 9.5/10
(-0.5 because it is so bloody expensive!)
On a side note... my clear skin (in that last photo) isn't so clear anymore because of my recent lack of sleep, stress and the fact that I'm having a cold right now. :( So seriously... good health = good skin, so take care of yourself if you wanna be beautiful! :)
Till next time~