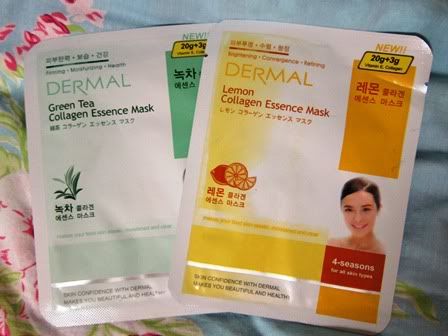 Dermal is a Korean brand that manufactures affordable and good-quality sheet masks (usually S$2 per sheet mask, pretty good value!). I've previously reviewed the
White Collagen and Coenzyme Q10 Essence Masks
and now here's the review for another 2 flavours - Green Tea Collagen and Lemon Collagen Essence.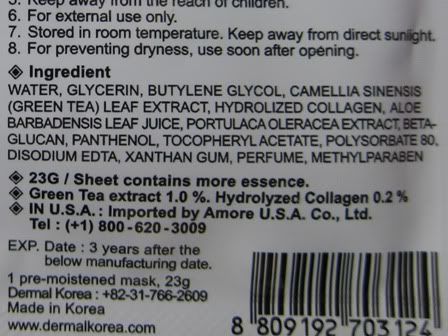 Green Tea Collagen is supposed to moisturizing and firming. It has a pleasant, light floral scent and the serum is light and runny. It is easily absorbed and feels hydrating, like most of the other Dermal masks. I like this one, but if you're looking for a multi-functional mask with whitening benefits as well as moisturizing benefits, I'd go for the White Collagen mask instead.
Rating
: 9/10
Lemon Collagen is supposed to be brightening, firming and refining. (Apologies - I forgot to take a photo of the ingredients, but it contains lemon essence.) It smells like lemon-scented toilet freshener, which really turns me off. The mask essence is lighter and more watery than the other regular Dermal masks, and perhaps because of the lemon essence, it stings a little on places where I have zits. I also find it not as moisturizing as the other Dermal masks. The essence is easily absorbed and I do notice some slight brightening and refining effects, but the results pale in comparison to the White Collagen mask.
Rating
: 6/10
Dermal really makes quite a lot of different flavours; I have a few more flavours in my stash I'll review soon. I like all the masks, but since they all perform pretty well in terms of basic functions like moisturizing, in my next blog post I'll focus on which ones are the most outstanding and multi-functional. Till next time! :)