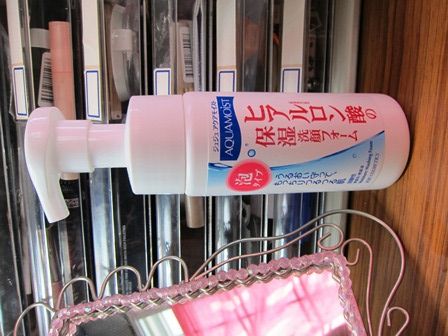 I noticed my Juju Aquamoist Hyaluronic Acid Cleansing Foam running low recently, so I decided to review it before it's completely gone! It's a relatively more expensive drugstore cleanser (SASA has it for ~US$11), but I bought it at a sale. I haven't tried Biore's Marshmallow Whip facial foam, but I think they are similar, because they're both liquid cleansers which pump out airy foam, like so: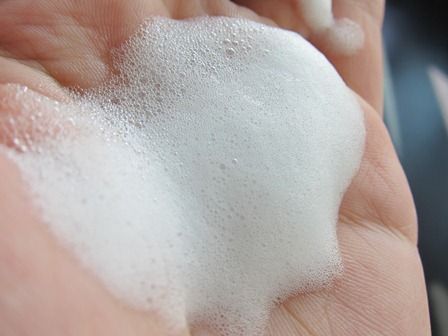 The foam is nice and light, and I think it would suit absolutely any skin type. It contains hyaluronic acid, so it leaves my skin feeling moisturized, yet the feeling is so light, and it cleanses really well. It rinses off cleanly and never leaves a drying feeling. While I use it only as a morning cleanser, the cleansing power is definitely good enough to use for evening cleansing too. Plus, Biore Marshmallow Whip doesn't contain hyaluronic acid, but this does!
Juju Aquamoist Hyaluronic Acid Cleansing Foam comes in a 150g bottle. The thing is, as compared to a regular cleansing gel or facial foam at the same weight, you're paying for a larger volume of water weight, because the water is what creates the foam. (With a regular cleansing gel, you're paying for the concentrated ingredients, because you add water yourself to foam it up manually.) That's why I find that I go through such liquid-type cleansing foams more quickly than regular gel-type or paste-type facial foams.
I really like this cleanser though - what makes it different from other moisturizing cleansers, is that it is suitable for oily/acne-prone skin. Other moisturizing cleansers usually feel more heavy and take time to rinse off cleanly, and might not be good at cleansing, but this Juju Aquamoist cleansing foam is everything and more - moisturizing yet light, cleanses well while retaining moisture and rinses off easily. And it's a really soothing cleanser for skin that has acne flare-ups - it cleanses well without aggravating acne and leaves your skin protected because it doesn't dry your skin out. Plus, just pump and go!
Other observations - the fragrance is light and clean-smelling, a universally likeable scent. While I think this cleansing foam is slightly expensive for a drugstore cleanser, it is an outstanding performer. As such:
Rating
: 10/10
I'm thoroughly impressed! I can't wait to repurchase it (after I've finished my remaining stash of 98237689 cleansers). ^^