Hello~ I'm on a week-long leave (well-deserved, mm-hmm) and so I've started organising all my stuff in my room to make it more functional, so that I can save time on my daily routines and not waste time doing so much stuff! One project I completed recently was a magnetic 'To-do' board. Super simple, just took me S$10 and half an hour!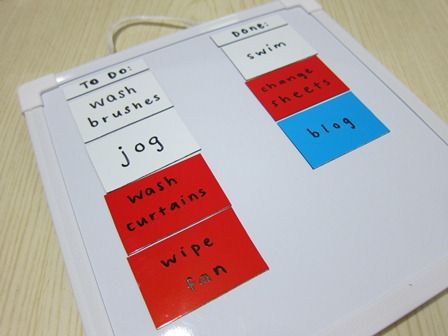 This project came about because I realized that every weekend, I have about the same type of chores (except maybe I swim instead of jog, and I wash different things), and I waste time and paper by scribbling down my chores on a post-it. Plus, the post-it is tiny and post-its just make me feel annoyed because they look messy and are very 'fly-away' - they're always dropping off somewhere.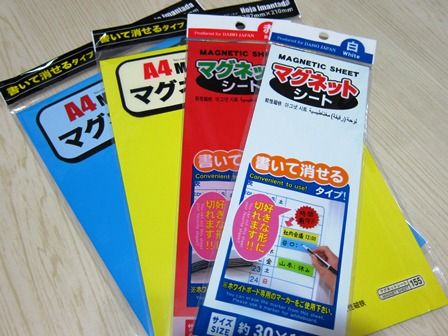 So I got the whiteboard and these magnetic sheets from Daiso - they're only S$2 each! I got them in different colours for different items:
- Blue for 'me-time': Blogging, swimming, jogging, writing music etc
- White for regular weekly chores: Washing my make-up brushes, combs, laundry, disinfecting my keyboard and other items
- Red for chores that aren't so regular: Washing the curtains, wiping the fan, wiping my piano, conditioning leather bags
(If you're sharp you'll notice that in the photo, jogging and swimming are in white but I've since amended that, oops.)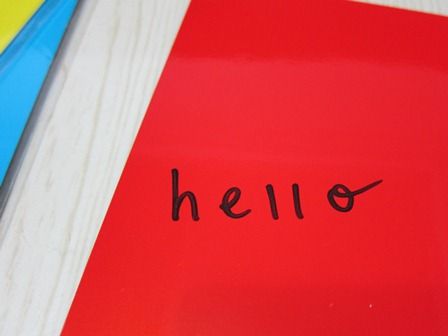 They are really easy to use - you can use permanent marker or ballpoint to write on them, and they're eraseable and reusable! (Yes, even permanent marker.) It's really simple, just measure and cut into little rectangles - they cut like butter.
I keep the rest of the little magnetic rectangles in my Rilakkuma pencil case when they're not in use.
I imagine the magnetic sheets would be useful for tutors or teachers (music, ballet, whatever) working from a fixed location (won't work if you're the kind who drives to your students' houses). You could print a big paper schedule and write your students' names on the magnetic rectangles. When your student calls to change the timing, it's easy to see when you're free and you can just switch the placement of the magnets on the schedule, instead of cancelling and penning it down on your agenda. (I hate cancelling stuff on my agenda cos sometimes there's not enough space for me to write stuff once you cancel something out.)

I hope this is helpful! I'm really loving Daiso, I see so many amazing organizational tools there. Anyway, let me share some other cute stuff I found over the weekend-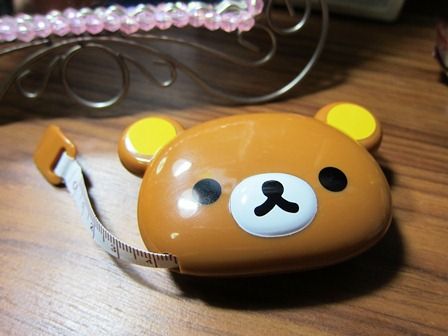 To motivate myself to organize and revamp my space, I bought this Rilakkuma tape measure, to measure my spaces more precisely so that when I look at containers/organizing stuff, I can measure them and buy the exact amount of items with correct dimensions. (I used to just buy and try... which is a bad example!)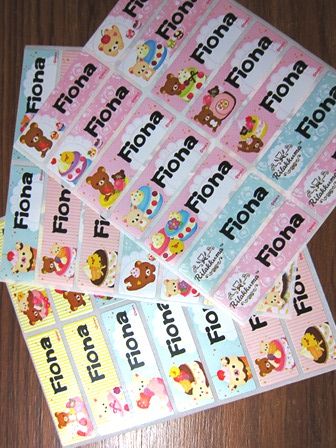 Rilakkuma name stickers! Too cute.
I found these notebooks with black covers and neon paper at Popular. So pretty!!!!! They're like my favourite black Muji notebooks, except with neon paper! I haven't found a use for them yet but they are too cute, I had to have them. And when you're really tired at work or in school, just a look at the neon pages are enough to wake you up. ;)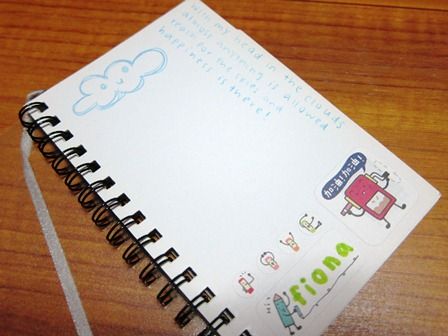 I've been clearing out my stuff. In order to throw some my sentimental stuff away, I take photos of them. (I only take photos of the really nice ones, or of stuff that suits me and of which I want to repurchase the same style again, so I'm not crazy or a hoarder haha.) I like this notebook cos I designed the cover myself and was really my style. I like the sticker of the pencil sharpener, so cute! He's sharpening a pencil and going "You can do it, go go go!". Lol! And I was really into drawing cute clouds. The writing there goes:

with my head in the clouds
almost anything is allowed
reach for the skies and
happiness is there!

I got it from an Hermes catalogue, I think. :P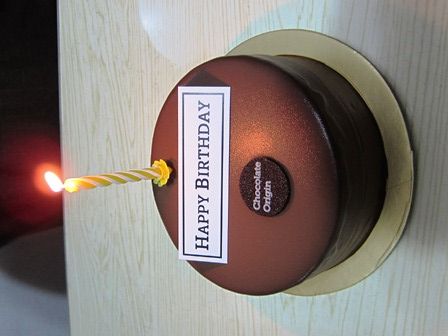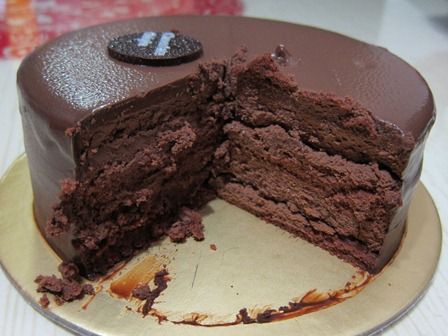 And another birthday cake! I bought this from Chocolate Origin for my dad, it looks really pretty. It's a cake with more chocolate than cake though! I really liked the chocolate coating, it was not too sweet but really good. I would, however, still prefer a cake with more cake! (Awfully Chocolate's good, and Choc-a-bloc even better!)
I'll probably be posting a lot more this week because I'll be enjoying myself on leave. :)