I couldn't compose a new post this week because Blogger was giving me an error. I finally figured out it was some HTML from my previous post that was preventing me from posting. -_-U Anyway, I was totally de-cluttering last week and here's some stuff I threw out which I thought I might do mini-reviews on.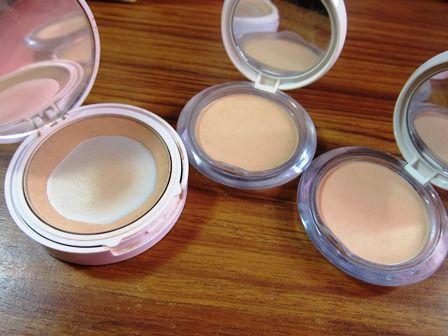 From left: NP Set Pasarella Foundation, Acmedica Powder Foundations
NP Set Pasarella Foundation
I bought this at Target for US$30, which is pretty damn expensive for something from a drugstore. (Well ok, I guess Napoleon Perdis is expensive but NP Set is supposed to be the more affordable line!) I got it in Set 3, which I think is more suitable for MAC NC30-35. It was slightly too warm and orange on me. It also gives a powdery look and the coverage is very light. The good thing is, it controls oil pretty well!
Rating: 8/10
Acmedica Powder Foundation - Medicated Acne Clear Pact
I bought this ages ago - it comes in 2 shades, Light Beige and Natural Beige. They're pretty affordable, about S$18 each. What attracted me was that they are made for acne-prone skin, so they contain acne-fighting ingredients like sulphur. (Indeed, I can smell the sulphur in the powder.)
The good thing is, it is very suitable for acne-prone skin because my acne improved after using it! So the anti-inflammatory ingredients work. Some people might not like the sulphur smell though.
Also, it only comes in 2 shades - Light Beige and Natural Beige. Natural Beige will suit skintones of up to MAC NC25, so the shades are only for fair skintones. However, it does offer SPF15 protection. I think it's a good budget option for acne-prone people! Here's the picture of the packaging - you can find it at SASA.
Rating: 8/10
--------
I'm super busy right now, I'm trying to finish tidying my stuff because I'll be holidaying in Taiwan next week! I haven't started packing. Looking forward to it! :)