Hello hello I'm back from Taiwan! I took a 10-day trip there with family. It was fun. :) I went to Taipei and Sun Moon Lake (Taichung). Anyway, I took the opportunity to haul items from
Payeasy
and I'll be doing a mini-review of the Kevin Beautymaker Aqua Smooth Lip Color in 3 colors. They were having a summer sale - they cost only NT199 each!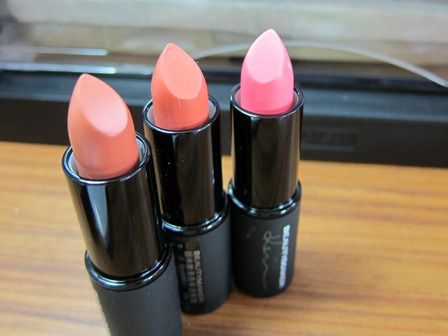 From left: Princess (千金裸唇), Peach (晶亮珊瑚), Sweet Pink (甜蜜粉紅)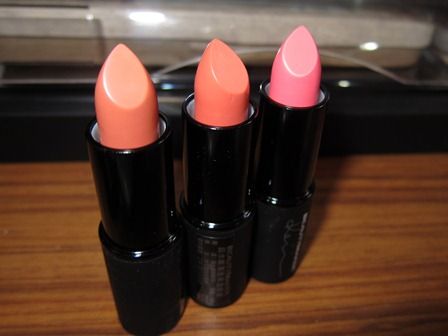 With flash
Princess (千金裸唇) is a lovely warm nude that doesn't make me look like a corpse. In Chinese, it translates into something like 'rich girl nude lips'. So I guess it's a really nice, classy looking nude that all the rich girls wear. I like it the best out of all the shades! It isn't too pale for my tanned skin (MAC NC30 as of now) and I still look healthy when I wear it (unlike other corpse-nude colours). Subtle but you can still tell that it's on. A very wearable everyday colour.
Peach (晶亮珊瑚) is similar to Princess, but brighter and more vivid, with a coral hue. In Chinese, it translates into 'bright coral', which is a good shade description.
Sweet Pink (甜蜜粉紅) looks like a seriously bright bubble-gum pink in the tube! It really scared me at first, but because the formula of these lipsticks are sheer like a balm, it is really wearable. I like it too! It is blue-based, but not so blue-based that it doesn't work for yellower Asian skintones, so I like it! It is a nice blue-based pink that works for Asians. Good shade description.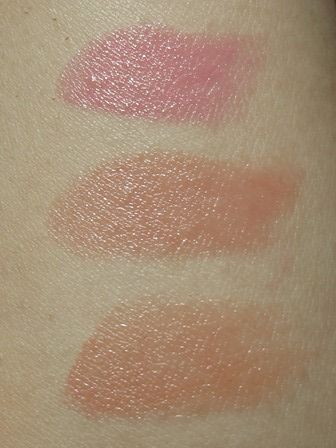 From left: Princess (千金裸唇), Peach (晶亮珊瑚), Sweet Pink (甜蜜粉紅)
The formula of these lipsticks is very creamy and they have a dewy finish. They glide on very easily, like a lipstick-lipbalm hybrid. They contain Sodium Hyaluronate for moisture, and Vitamin E. They settle into liplines a teensy bit, but it's not noticeable because they're sheer. They're not too sheer - they hit a good balance between sheerness and good pigmentation. However, while they feel moisturizing, my lips still feel a little dry after wearing them, so you do need a good lipbalm under it. Plus, they wear off pretty quickly within a couple of hours, which is common for such creamy lipsticks.
The regular price of these lipsticks is NT300 for 3.5g, which is pretty reasonable. The lipstick tube is a little rubbery-plasticky, like NARS packaging, pretty classy for a drugstore brand.
Rating
: 8/10