Revlon Age Defying Spa Concealer
and L'oreal Touche Magique, which were both really good, but they were twist-pens and not click-pens.
The brush is ok, not too stiff, but I still prefer using my fingers to blend. As with most twist/click pens, it's a little difficult to control the amount that flows out.
The click-button at the bottom has a lock mechanism, the kind that locks/unlocks when you twist it clockwise/anti-clockwise. Thing is, the button is small and difficult to twist. I don't intend to travel with this, so once I unlocked it, I left it unlocked. It's a useful feature, but it could be improved.
I purchased the Natural shade, which is the darker, more orange shade, which suits my MAC NC30 skintone well. (I have really dark circles though.) I think Ivory is paler and more yellow-based. It's watery, light and very blendable, but has very light coverage. Revlon Age Defying Spa Concealer and L'oreal Touche Magique (both twist-type illuminating concealer pens) have better coverage and better staying power, while illuminating well. So this Magic Concealer pales in comparison. It brightens up my dark circles, but doesn't conceal well enough. I use this on my eyelids as well, but it creases on my double-eyelid fold. Not good!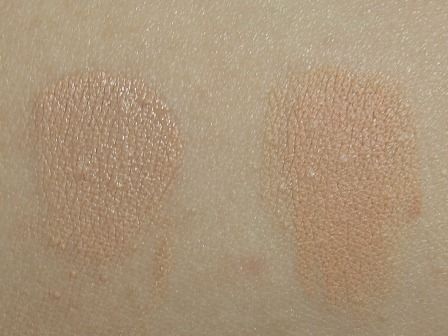 From left: Kevin Beautymaker Aqua Eye Concealer in Natural, Kevin Beautymaker Magic Concealer in Natural
I much prefer the Kevin Beautymaker Aqua Eye Concealer. I use it in the Natural shade as well, but it's less orange than the same shade of Magic Concealer, and has better coverage and staying power. So I'm really not too impressed with Magic Concealer. The regular price is NT300 for 3g, which is not worth the quality, I feel. However, it works ok for illuminating my undereyes (just not my eyelids), so it gets a 6/10.
Rating: 6/10