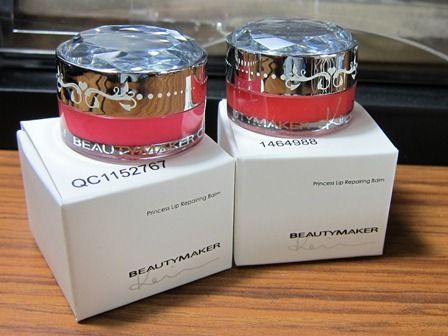 L-R: Sweet Pink (小粉紅), Strawberry (小草莓)
I got the Kevin Beautymaker Princess Lip Repairing Balm during my trip to Taiwan, in both shades - sweet pink and strawberry. They cost NT300 each for 4g of product, which isn't particularly affordable, but the packaging is really pretty!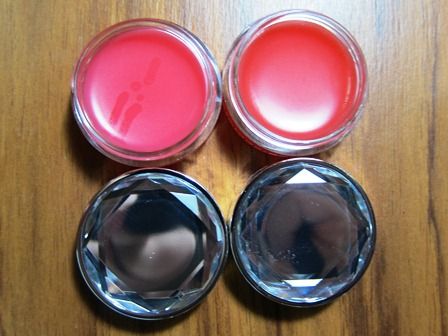 L-R: Sweet Pink (小粉紅), Strawberry (小草莓)
I love the jewelled cap. The colours are really pretty, they show up as just the slightest hint of colour. (Very sheer in one layer, but slightly buildable.) I like that the texture of these is a gel-type balm that is very smooth and non-greasy. If I were to compare these to The Body Shop's Born Lippy lip balms... well these definitely win.
TBS's feels heavier (but not more moisturizing) and they don't have as much colour as compared to Beautymaker's. TBS's can also look a little greasy while Beautymaker's feels more like a gel/serum texture which is very light and nice! However, while TBS lip balms smell so delicious and fruity (in an artificial way), these Princess Lip Balms have little fragrance.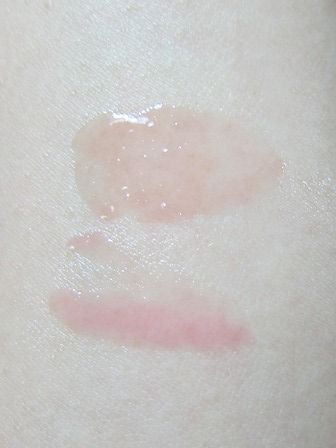 L-R: Sweet Pink (小粉紅), Strawberry (小草莓)
Ingredients: Jojoba Oil, Jojoba Ester, Microcrystalline Wax Hydrogenated Polysobutene, Cocoa Butter, Shea Butter Extract, Sunflower Seed Oil, Aloe Andongensis Leaf Oil, Avocado Oil, Isohexadecane / Sodium Hyaluronate, Tocopherol Acetate, L-hydroxy Proline, Dextrin Palmitate, Nicatinamide, Propyl Paraben, Titanium Dioxide, Fragrance (Flavor), D&C Red No.6 Barium Lake
I definitely like these lipbalms... they're a bit dear but they're worth it! I would try to get them on sale though.
Rating: 9/10
-------
Some random photos:

This is a Payeasy Beauty Vending Machine which I found at a HSR train station in Taichung. It sells selected Kevin Beautymaker and Bio Beauty products at cheaper prices than the website. They also sell powder foundations and stuff, but I can't really tell which shade they're offering, so I don't know how that works.